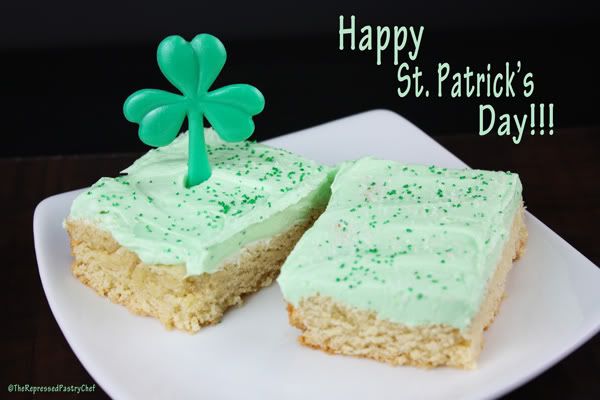 What's this?  Two posts?  In the same WEEK?  Wow – it's been quite a long time since I've done that :)  But all the friendly WELCOME BACK messages really warmed my heart, so, well, here I am again :)
If you've followed my site for any length of time or read back thru the archives, you'll know this is not the first time I've posted sugar cookie bars.  What can I say… they're pretty darn easy, super tasty and rather different.  I mean, yeah, you can buy slice-n-bake sugar cookies, you can go to the market and buy pre-made sugar cookies but cookie BARS are a nifty lil update on an old classic.  And oh, did I mention they're super tasty, too!!!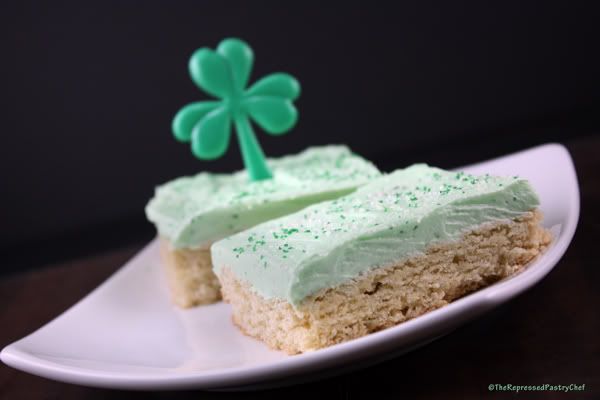 Can you believe it's been almost a whole year since I first told you about Sugar Cookie Bars?  Yup, it was back at the end of March 2009 – wow time does fly! We've gone thru a LOT of changes at work recently and I wanted to bring a little something for my colleagues to enjoy on St. Patrick's Day.  I didn't have a lot of time, and we've been deluged with cupcakes recently so I pulled out this little gem of a recipe.   If you've never tried them, now's the time to do so.  Spring is nearly upon us which is the perfect time to shake off the cobwebs and try something new.  In less than an hour, you'll be pleasing someone's palate… even if it's just your own!
Click here for the original post containing the recipe
Have a delicious day!