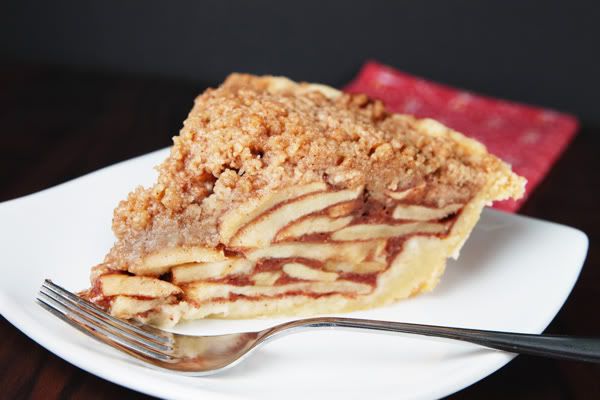 It's Pi-day (March 14 = 3/14 = 3.14 = Pi) so I couldn't possibly let this day go by without posting a, yeah, you guessed it, Pie!  It's been quite a while since I baked and posted anything but I wanted to honor one of my favorite days of the year.  I've made a lot of pies in my day but to be honest, making a good pie crust has always been difficult for me. At least it was difficult until I came across Mike's recipe for pie crust.  This baby has not failed me once and I continue to make it again and again… and again.  It's absolutely my go-to recipe when I need a pie crust.  And the filling?  How can you go wrong with brown sugar, apples and a delectable crumb topping!
Yes indeed – have a happy Pi day… March 14… and be sure to help yourself to some pie :)
Perfect Pie Crust
From the Food Muse
3 cups all purpose flour
1 1/2 teaspoons salt
3 tablespoons granulated sugar
6 oz unsalted butter, chilled and cubed
6 oz lard, chilled and cubed
4-5 tablespoons iced water
NOTE: This is enough to make a double crusted pie… if you want a crumble top instead, make only half this recipe.
Put the dry ingredients in the bowl and mix well.  Add the chunks of chilled butter and lard on top and pulse the food processor until it looks like coarse meal.  Do not overmix this, and make sure the fats are cold !  Dump this into another bowl.  It should still have large chunks of fat in it, ranging in size from the size of a pea to the size of shelled walnuts.  Add the water and mix it with a fork until it comes together.  Divide this in two and dump it onto a piece of waxed paper or plastic wrap and flatten it to a disk, about 4-6 inches in diameter.  Cover the disks well and let them chill until very cold.  The dough should not be wet at all.  In fact, it should be somewhat dry and crumbly and difficult to work with at this point.  As it cools in the refrigerator, the flour will absorb the water, and solidify.
Once your crust is very cold, it is time to roll.  Flour your work surface and take out the crust.  Place it on the flour and roll it gently from the center outward.  Roll it a bit larger than the pie tin you will be using.  If you made this correctly, you will see the chunks of fat in the dough, and as you roll the dough these will flatten, and that is what makes the crust flakey.
Adapted from Epicurious.com
Brown Sugar Apple Filling
3 pounds Granny Smith apples, peeled, cored, sliced 1/4 inch thick
1/3 cup granulated sugar
1/4 cup brown sugar
2 tablespoons all purpose flour
1 tablespoon cornstarch
2 teaspoons ground cinnamon
1 teaspoon freshly grated nutmeg
1/2 teaspoon ground ginger
1/2 teaspoon ground allspice
2 tablespoons unsalted butter, melted
Crumb Topping
1/2 cup all purpose flour
1/2 cup rolled oats
1/2 cup sugar
1/4 cup  brown sugar
1 1/2 teaspoons ground cinnamon
1 teaspoon freshly grated nutmeg
1/2 teaspoon salt
6 tablespoons chilled unsalted butter, cut into 1/2-inch cubes
For filling:
Mix all ingredients in large bowl to coat fruit.
For topping:
Blend first 7 ingredients in food processor. Add chilled butter cubes; pulse to cut in until mixture resembles wet sand.
Toss filling to redistribute juices; transfer to crust, mounding in center. Distribute topping over and around apples. Loosely cover pie with aluminum foil then place on baking sheet and bake as follows: 40 min at 400°F… reduce to 350°F and bake for another 20 minutes… remove foil and bake another 20 min at 325°F.  Remove from oven and cool on rack for at least 2 hours.
Have a delicious day!