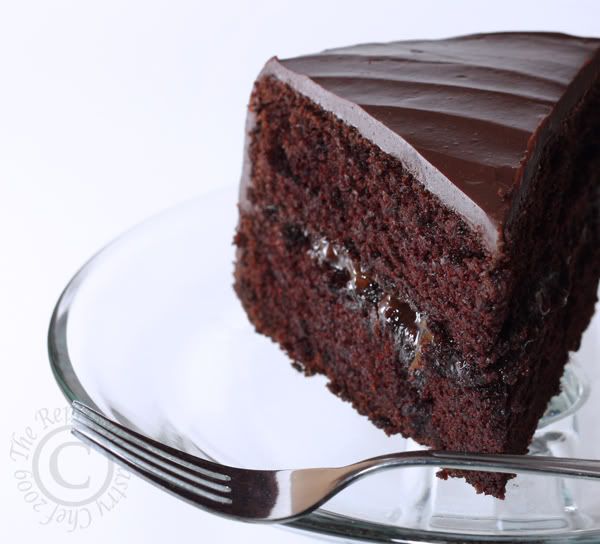 While I've often said I'm not a big fan of chocolate… and I'd never fight you for a slice of chocolate anything, my friends, let me state right here… this is the cake that would make me change my mind. Although it is homemade from scratch, it rivals any cake by a professional pastry chef in a 5 star restaurant. It is incredibly moist… incredibly rich… incredibly flavorful… and incredibly delicious. Yeah, this cake is black magic alright because it would pretty much take some black magic to make me love a chocolate cake this much! Suffice it to say that if there were two of us at the table… and only one slice of Black Magic cake left… oh yes indeed I would push up my sleeves, slip off my earrings, kick off my shoes and wrastle you right there in public. And rest assured I would emerge victorious. This chocolate cake is that just.that.good!
Once again, I won't bore you with an excess of words because I think the pictures speak for themselves. The recipe comes from Hershey and can be found by clicking here. It's been around a long, long while and is experiencing somewhat of a recent resurgence.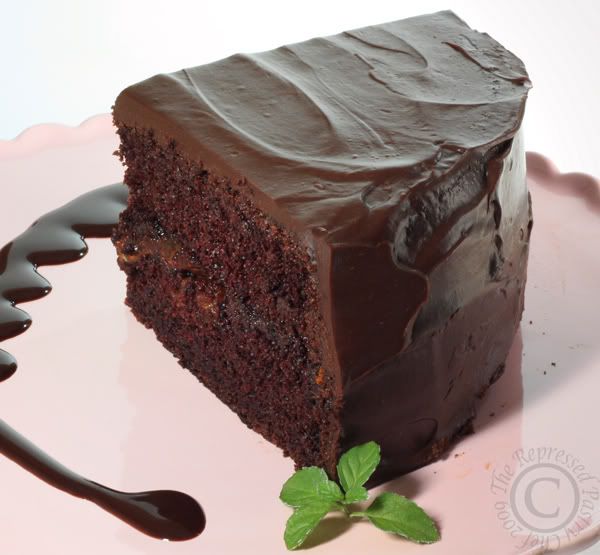 I saw the recipe and pictures on the internet the other day. I must have looked at it more than a dozen times during lunch… to the point where one of my co-workers told me "quit lookin at it, just go home and make it!". And that's pretty much what I did… I went home that night and made it.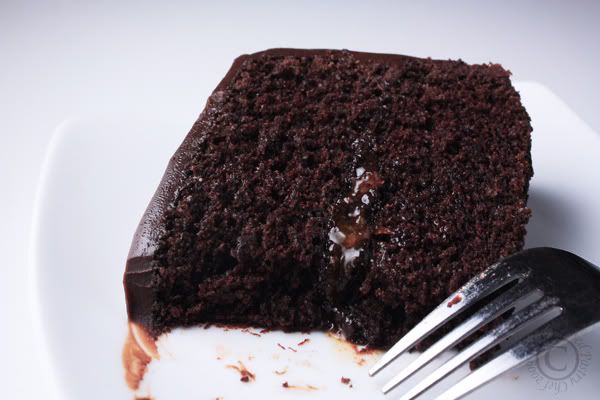 Between the layers I spread apricot preserves thinned with a bit of water. Truthfully, I think I should've used more filling because apricot and chocolate is a very tasty combination but it was amazing nonetheless! I can already imagine using all different kinds of fillings when I make this again and again in the future.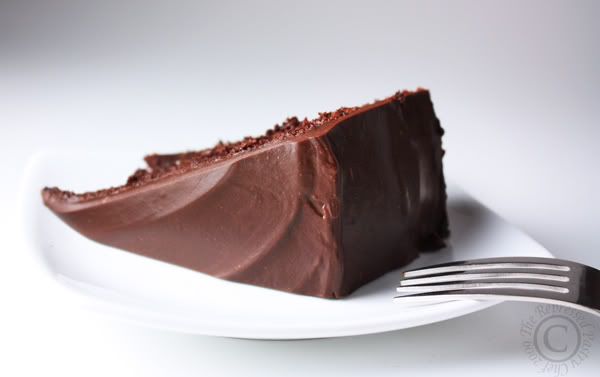 For the icing, I made a pourable ganache by heating 6oz of cream to just about boiling and pouring it over 9oz of semi-sweet chocolate morsels… letting it sit for about 3-4 minutes and then stirring gently until combined. It thickens as it cools and I waited until it was pourable… but still thick enough so that it spread nicely with an offset spatula.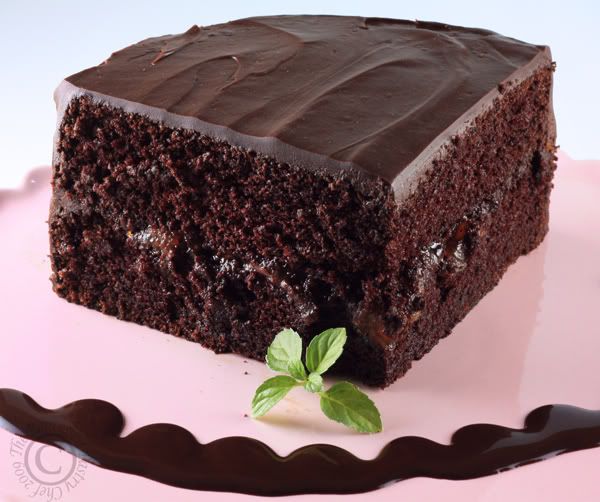 Just in case the link I created above decides to break at some point in the future, I'll post the full recipe right here as well as make the title a clickable link…
Ingredients:
2 cups sugar
1-3/4 cups all-purpose flour
3/4 cup HERSHEY'S Cocoa
2 teaspoons baking soda
1 teaspoon baking powder
1 teaspoon salt
2 eggs
1 cup buttermilk or sour milk*
1 cup strong black coffee OR 2 teaspoons powdered instant coffee plus 1 cup boiling water
1/2 cup vegetable oil
1 teaspoon vanilla extract
Directions:
1. Heat oven to 350°F. Grease and flour two 9-inch round baking pans or one 13×9x2-inch baking pan.
2. Stir together sugar, flour, cocoa, baking soda, baking powder and salt in large bowl. Add eggs, buttermilk, coffee, oil and vanilla; beat on medium speed of mixer 2 minutes (batter will be thin). Pour batter evenly into prepared pans.
3. Bake 30 to 35 minutes for round pans, 35 to 40 minutes for rectangular pan or until wooden pick inserted in center comes out clean. Cool 10 minutes; remove from pans to wire racks. Cool completely. Frost as desired. Yields 10 to 12 servings.
* To sour milk: Use 1 tablespoon white vinegar plus milk to equal 1 cup.
Have a delicious day!
src="http://signatures.mylivesignature.com/54486/313/2F9B6626815A7DEDA50FC96
E870F3868.png" style="border: none; background: transparent;"/>