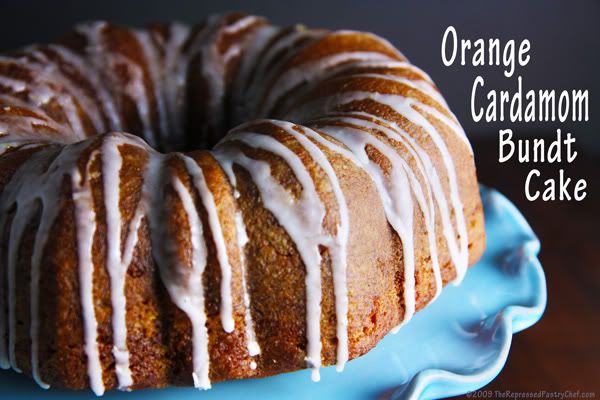 Happy National Bundt Cake Day!!!  What?  You didn't know about it?  Well obviously you have not been following The Food Librarian as she's made her way thru 30 days of bundt cakes leading up to this momentous day!  I had a lot of fun following her journey… and I give her mad props for baking 30 different bundt cakes in the past month.  You go girl :)  Her perseverance inspired me to plan on baking a bundt cake ON National Bundt Cake Day (Nov 15) in tribute to her efforts!  She made quite a variety of different bundt's and each of them sounded absolutely delicious.  This made it terribly hard to decide on which one I would make.  Maybe it should be chocolate (DH and the kids love chocolate).  Maybe it should be fruity (you know I love lemon!!).  Maybe it should be seasonal (it IS November  so perhaps pumpkin).  I pondered her list trying to decide when over and over it seemed one intrigued me more than the others… the Cardamom Vanilla bundt.  Being a Daring Baker I fell in love with the spice cardamom way back when we made a danish braid… and especially when it is paired with the flavor orange.  Not sure why but it's a combination that just does it for me!  So for today… in honor of National Bundt Cake day… I present the Orange Cardamom Bundt!
The cake has a delicate balance of flavors where the orange, cardamom and vanilla meld together beautifully; none overpowers the others.  If you love cardamom, feel free to add a tad bit more and if you're not sure about it, add a tad bit less.  After baking I decided to brush the cake with a bit of orange juice and granulated sugar that I warmed slightly.   For a glaze I mixed orange juice and powdered sugar to the consistency I wanted so that I could drizzle it.  I didn't include this as a part of the recipe since they're totally optional and a matter of personal preference.  I happen to like the look of a drizzled-glaze… others prefer a dusting of powdered sugar.
Happy National Bundt Cake Day!!!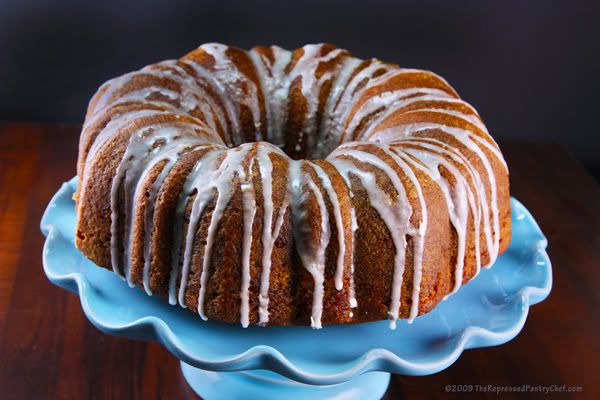 Orange Cardamom Bundt Cake
Ingredients
3 cups all-purpose flour
1 1/2 teaspoons ground cardamom
1 teaspoon baking powder
1/2 teaspoon baking soda
1/2 teaspoon salt
2 1/4 sticks unsalted butter, softened
1 3/4 cups granulated sugar
1 teaspoon vanilla bean paste
2 teaspoons orange extract
4 large eggs
1 tablespoon fresh orange juice
1 cup whole milk
Method
Preheat oven to 350°F with rack in middle. Generously butter a 12-14 cup bundt pan and dust with flour, knocking out excess.
Whisk together flour, cardamom, baking powder, baking soda, and salt. Set aside.  In the bowl of a stand mixer fitted with paddle attachment, combine the butter and granulated sugar, scraping side of bowl occasionally, until pale and fluffy, about 5 minutes. Add the vanilla bean paste and beat until combined well, about 1 minute.   Add the orange extract and beat until combined well, about 1 minute.  Add eggs 1 at a time, beating well after each addition, then add in the orange juice until combined well. At low speed, add flour mixture and milk alternately in batches, beginning and ending with flour mixture, mixing until just combined.
Spoon batter into pan, smoothing top. Gently rap pan on counter to eliminate air bubbles.
Bake until a wooden skewer inserted into center of cake comes out clean, about 1 hour. Cool in pan 1 hour, then invert onto a rack and cool completely, about 1 hour more.
If you like what you've read, please

Don't miss a single update!
subscribe to The Repressed Pastry Chef RSS feed or
subscribe to The Repressed Pastry Chef by email
Have a delicious day!