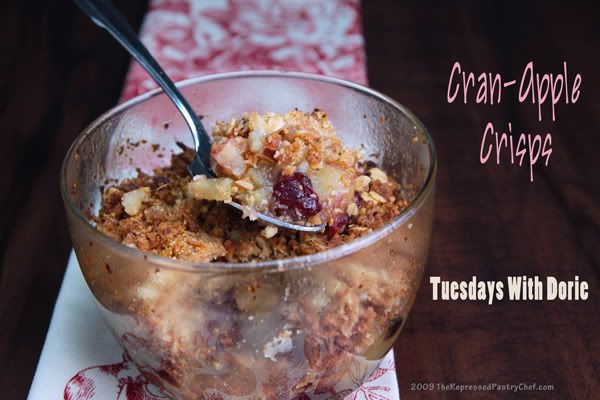 This week was my turn to host Tuesdays with Dorie!  While I haven't been baking a lot lately, I surely was not going to miss my turn in the rotation :)  When I initially joined TwD it seemed like my turn was so far far faaaaaar away but now it's here and I chose Dorie's recipe for Cran-Apple Crisps. It seemed like a no-brainer to me as I love both of these fruits and using cranberries and apples seemed so perfect for the autumn weather most of the United States is experiencing :)
This recipe is faaaaaaaaaaaabulous!  I love how it's just a handful of ingredients which come together quickly, easily and bake up beautifully.  When all was said and done, I took one bite and thought it was faaaaaaaaaaaaaaaaabulous!  The only thing that could've made it better would've been a nice melting scoop of vanilla bean ice cream :)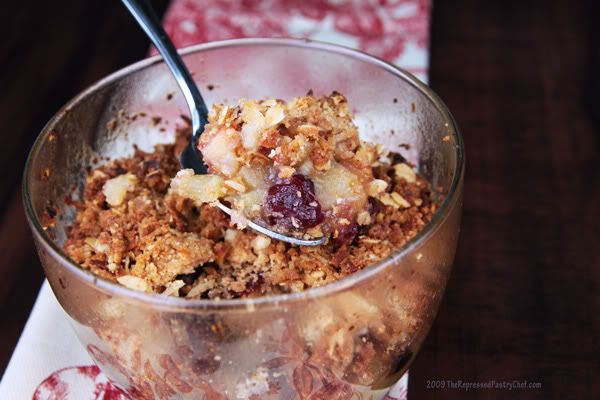 Cran-Apple Crisps
Baking From My Home To Yours – Dorie Greenspan
For the topping
¾ cup all-purpose flour
½ cup (packed) light brown sugar
½ cup old-fashioned oats
½ cup shredded sweetened coconut
1 teaspoon ground cinnamon
¼ teaspoon ground ginger
1 stick (8 tablespoons) cold unsalted butter cut into 4 pieces
For the filling
4 medium apples, peeled, cored and cut into ¼ inch chunks
1 cup fresh or frozen cranberries (if frozen, don't thaw)
½ cup moist, plump dried cranberries or raisins (dark or golden)
2/3 cup sugar
1 tablespoon all-purpose flour
Getting Ready:
Center a rack in the oven and preheat the oven to 375°F. Lightly butter eight ovenproof cups or bowls, each with a capacity of about one cup. Pu the cups on a baking sheet lined with parchment or a silicone mat.
To make the topping:
Put all the ingredients in a food processor and pulse just until the mixture forms big curds, about 1 minute. (You can make the topping up to 3 days ahead and refrigerate it in an airtight bag.)
To make the filling:
Toss all the ingredients together in a large bowl. Divide the fruit evenly among the cups then spoon an equal amount of topping over each portion of fruit. Bake the crisps for 40-45 minutes or until the topping is golden and the fruit juices are bubbling up around it. Transfer the cups to a rack and let them rest for at least 10 minutes before serving.
If you like what you've read, please

Don't miss a single update!
subscribe to The Repressed Pastry Chef RSS feed or
subscribe to The Repressed Pastry Chef by email
Have a delicious day!