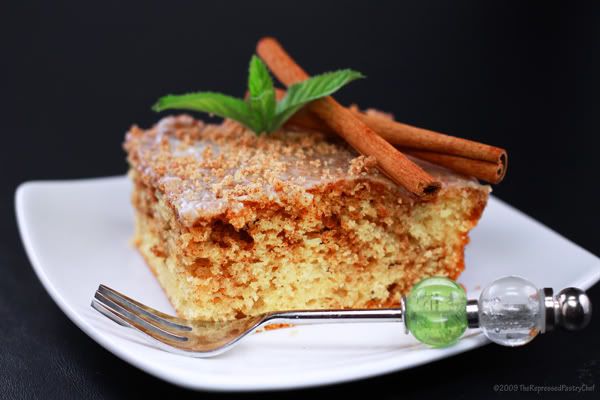 Quite a few months back I started seeing this cake pop up all over the various blogs I frequent. It looked so absolutely appealing that I found it completely irresistible. After all, it's cake, cinnamon and drizzly-glazy-icing… a winning combination in my book! If you're one of the few people left who hasn't made this cake, you really should. It's about as easy as can be… and it spends far more time in the oven that you'll spend getting it there or to the plate!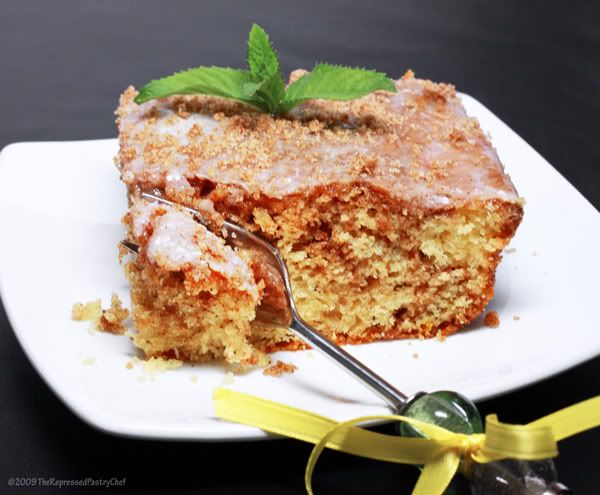 I'm sure you've noticed that I have not been blogging very much lately. Things have been very busy since the end of summer and I have not baked more than a handful of times. I do a lot of cooking… but not much baking. And I miss it. A lot. Only a sister/fellow baking blogger would understand how much. The middle of August was somewhat of a reality check. I knew I'd put on a few pounds but I'd been avoiding the scale for quite a while so it was easy to not realize just how much weight I'd gained. After lunch out with my co-workers one Friday I was not just full but I was uncomfort-ful… Thanksgiving-Dinner-Full. It was a sobering moment. My eating had been out of control and it was pretty easy to recognize it was due in large part to the amount of baked goods that were constantly around me. I love baking – it's been a wonderful learning experience and being in the kitchen feels about as natural as can be. But the morning after that lunch I got on the scale and saw just how out of control things were… I'd gained 12 pounds in 4 months! At that point not only was I heavier than I'd ever been by about 10 pounds… I was heavier than I had ever imagined I would be. While I've never been a "skinny" girl, I typically keep my weight in check but the scale all-too-honestly told the truth about just how out of check my weight was :(
Inspiration comes in many forms. People can inspire you without even knowing it. Jamie over at My Baking Addiction inspired me to get my act together and she probably doesn't even know it! LOL! At the end of August I hired a personal trainer and have been working out with him for 2 months now. Three times a week, for 60-75 minutes, he pushes me to achieve what I never in my wildest imagination dreamed I could achieve… especially since I truly dislike to exercise and am just about the laziest person on the planet! I kid you not! But since that disastrous-feeling lunch back in mid August I have lost over 20 pounds, gained quite a bit of strength and am in better condition that I ever expected to be. As much as I dislike exercise, I have tremendous respect for my trainer and love the feeling of accomplishment after our workouts. I've dramatically changed my way of eating and know there's no "secret" to weight loss… it's all about calories consumed vs. calories burned. I wish there was a magic wand but there isn't.
So that's why I haven't been baking very much… and since this is a baking blog when I'm not baking there's not much for me to write about here :) I've been careful to remove the temptations around me… and since I was doing all the baking I pretty much had to go cold-turkey. I'll continue to bake only not as frequently as I used to :) But not everyone has a weight problem and some people are much better than I am at moderation… cuz trust me, I absatively suck at it! LOL! If you need a cake in jiffy this is a good one to make. It's super easy and the combination of cinnamon and drizzly-glazy icing transforms it into something yummmmmmy!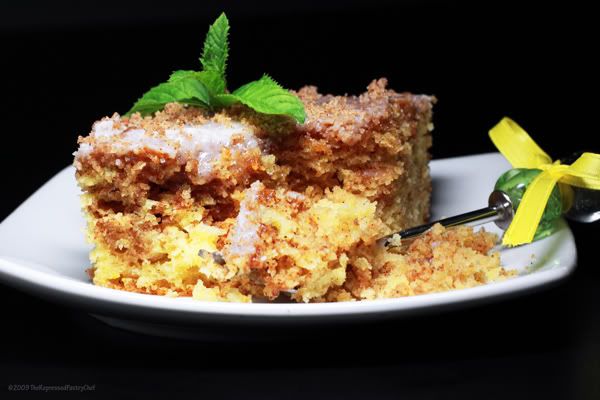 Cinnamon Roll Cake
Ingredients and Method
Preheat oven to 325°F
Mix together 1 box of Yellow Cake Mix, 4 eggs, 3/4 cup oil and 1 cup sour cream.
Pour in 13 x 9 greased baking pan.
Combine 1 cup brown sugar and 1 tablespoon ground cinnamon… pour over cake batter and swirl in using a knife
Bake for 30-40 minutes until done. Allow cake to cool for about 10 – 15 minutes before icing.
For the icing combine 2 cups powdered sugar and about 4 tbsp milk (more or less depending on the consistency you like) and pour over warm cake.
If you like what you've read, please

Don't miss a single update!
subscribe to The Repressed Pastry Chef RSS feed or
subscribe to The Repressed Pastry Chef by email
Have a delicious day!