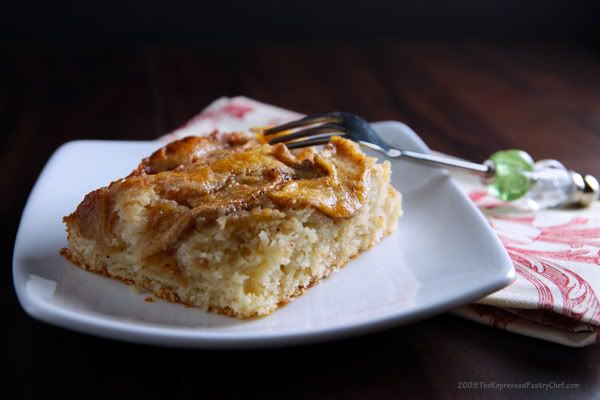 According to the calendar, Autumn has arrived… and in many parts of the country the temperatures are starting to cool off.  That hasn't completely been the case here in my part of Southern California but yesterday we finally had high's in the 90's instead off 100+ so I was definitely ready to bake something fall-like with apples!  Of course I'm been saving lots of recipes during the seemingly endless hot hot summer so I had quite a few to choose from.  One, in particular caught my eye rather recently and I decided to run with it.  I've seen many Apple Cake recipes but this one from the King Arthur Flour company is a sure fired winner.  As my husband said, "if you like apples, and you like cake, then this is the cake for you!" :)

The weather here is supposed to really cool off for the next few days so I'm going to enjoy it thoroughly.  This apple cake was just the first of many autumn-style recipes I'm eager to bake up!  I'm so in love with so many of the recipes from the King Arthur Flour Company and this was yet another that did not disappoint.   Unfortunately my pictures do not do it justice but if you've got a few apples hanging around, I highly recommend this cake.  It comes together about as easily as can be… the cake is moist and flavorful and the apples add a delicious top layer that can only be described as "the icing on the cake!" LOL!!!  While I'll admit that I've made several different recipes for apple cake but this one is now my favorite – thank you King Arthur Flour!!!
Oh and before I forget, congratulations to Amanda for winning the Vanilla giveaway!!! She chose the Vanilla Bean Paste (yay!!!!) and it's been shipped out directly from the cool folks at Singing Dog Vanilla :)
Fresh Apple Cake
Ingredients
Apples
4 or 5 large tart green apples (such as Granny Smith), cored and sliced (about 1 1/2 pounds); about 18 ounces prepared, about 5 1/2 to 6 cups
1/3 cup brown sugar
3 tablespoons boiled cider
1 teaspoon Apple Pie Spice, or your favorite combination of sweet spices
¼ teaspoon salt
Cake
1 1/3 cups King Arthur Unbleached All-Purpose Flour
1/2 cup granulated sugar
1 1/2 teaspoons baking powder
1/2 teaspoon salt
2/3 cup warm milk
1 large egg
6 tablespoons melted butter
1 teaspoon vanilla extract
coarse sparkling sugar to sprinkle on top, optional
Directions
Preheat oven to 350°F.  Prepare a 9″ cake pan with baking spray
Combine the apples with the brown sugar, boiled cider, spices and salt. Set aside
Combine the flour, sugar, baking powder and salt.  Set aside.
Mix the warm milk, egg, melted butter and vanilla.  Add to the dry mixture, stirring to combine. Pour into prepared pan.
Spoon the apple mixture onto the batter… for best appearance make sure the apples are distributed a little more heavily toward the edges of the pan. Sprinkle with coarse sparkling sugar if desired.
Bake the cake for about 50-60 minutes until it's light golden brown and a cake tester inserted into the center comes out clean.
Remove from oven and cool for about 5 minutes.  Remove from pan.
If you like what you've read, please

Don't miss a single update!
subscribe to The Repressed Pastry Chef RSS feed or
subscribe to The Repressed Pastry Chef by email
Have a delicious day!