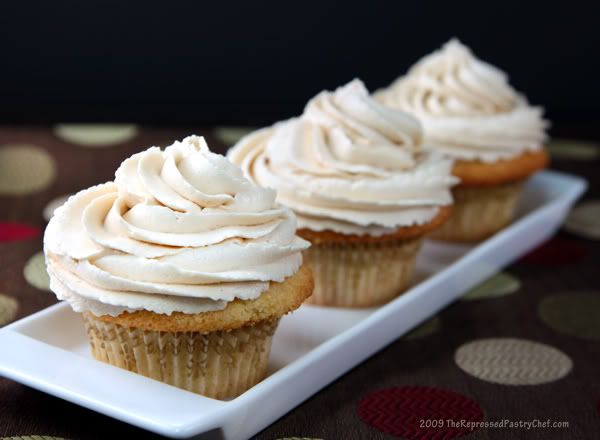 I know it's been a while but I'm finally back :)  I upgraded to the latest version of WordPress and it unfortunately didn't like my blog template.  That needed to be fixed… and it took a lot longer than I ever expected.  In the interim, I was afraid to try and publish any new content so I (im)patiently waited it out :)  But yes, I'm back and happy to bring you these super tasty vanilla cupcakes!   Recently I was contacted by Singing Dog Vanilla asking me to try their vanilla extract.  My first response was a resounding "sure thing!" and was even more pleased when they agreed to sponsor a giveaway for one of my blog readers!  A giveaway in which the winner will have a choice between two different Singing Dog Vanilla products!  A giveaway that will tap your creativity!  A giveaway that is not limited to "US Residents Only"… this time it's open to those of you in Canada as well so this giveaway really is a good thing!
When Jennifer contacted me regarding Singing Dog Vanilla,  I was intrigued.  You see, among their various products they sell organic vanilla extract.  While I've tried many vanilla extracts I'd not tried an organic one and I was curious as to how it would be.  While I awaited the arrival of the organic vanilla extract, I put on my thinking cap to decide just what recipe I wanted to use it in.   I decided to make vanilla cupcakes because I find the simplicity allows the true flavor of the vanilla (good or bad) to really come through.   I was pleasantly surprised by the "clean" flavor of the Singing Dog Organic Vanilla Extract.  No funky or "off" flavor… no odd aftertaste or anything unpleasant.  If you're into buying organic, I'd really recommend you check out Singing Dog for your vanilla extracts!
Another vanilla item that always interests me is vanilla bean paste.  I think the reason is it doesn't get used very much in recipes.  There's tons and tons of recipes that call for vanilla extract and lots of recipes that call for vanilla beans but very few that have vanilla bean paste as an ingredient.  I feel vanilla bean paste is terribly underutilized… and I absolutely love it!  All the flavor of vanilla beans but in a convenient "paste" form.   I think the stuff is great because you don't have to split the beans and scrape them out yourself.  All the flavor without all the effort :)  The winner of this giveaway will have their choice of either the vanilla extract or the vanilla bean paste.  If you win, and you've never used vanilla bean paste, I definitely recommend choosing it!!!
Speaking of the giveaway… lemme tellya whatcha gotta do to win.  Just leave a comment on this post with the recipe you would make to showcase this vanilla extract or vanilla bean paste.  Either provide a link to the recipe or do a copy/paste or type it out.  I'm totally looking forward to seeing the recipes because I plan to try out some of the ones you submit!  I'm sure others will try them out too so definitely put on your thinking caps and be creative :)  Remember, you must be a resident of the United States or Canada in order to win… and the winner will be chosen randomly from those qualifying comments left before 11:59pm PDT on Wednesday September 30, 2009.
Good luck and happy vanilla recipe posting!!!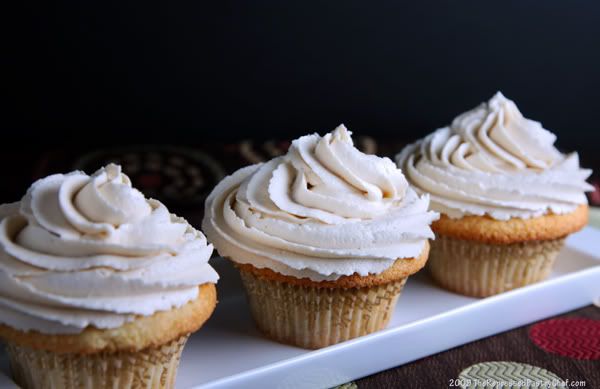 Vanilla Cupcakes
from Fisher & Paykel
Ingredients
125g butter
3/4 cup caster sugar
1 tablespoon Singing Dog Vanilla Extract
3 eggs, at room temperature
1-1/2 cups self rising flour
1/4 cup milk
Method
Preheat oven to 350°F.  Line a muffin tin with 12 cupcake liners.
In the bowl of a standing mixer fitted with the paddle attachment cream together the butter, sugar and vanilla until light and very fluffy – approx 5 minutes, scraping bowl occasionally.
Add the eggs, one at a time, mixing well after each.
Add the flour and milk, in three parts.  Combine well but DO NOT OVERMIX.
Fill cupcake liners 2/3 full and bake for 20-22 minutes or until a cake tester inserted in center comes out clean.
Brown Sugar Buttercream Frosting
from Culinary Concoctions by Peabody
Ingredients
1 cup tightly packed brown sugar
1/2 cup heavy cream
8 tablespoons unsalted butter, cut into 4 1-ounce pieces
1/8 tsp cream of tartar
Method
Heat brown sugar, heavy cream, 1 of the 1-ounce pieces of butter, and the cream of tartar in a 1 quart saucepan over medium-high heat, stirring frequently while bringing the mixture to a boil. Allow the mixture to continue boiling while stirring constantly, for 2 minutes. Transfer the bubble hot mixture to a stainless steel bowl and allow to stand at room temperature for 1 hour before proceeding. Place the cooled mixture int the bowl of an electric mixer fitted with a paddle. Beat on low for 30 seconds. Then beat on medium for 2 minutes, while adding the remaining 3 pieces of butter, one at a time, until incorporated. Scrape down the sides of the sides of the bowl. Increase the speed to high and beat for an additional 2 minutes. Scrape down the sides of the bowl and beat on high for an additional 1 minute until light and fluffy. Refrigerate the icing until needed.
If you like what you've read, please

Don't miss a single update!
subscribe to The Repressed Pastry Chef RSS feed or
subscribe to The Repressed Pastry Chef by email
Have a delicious day!