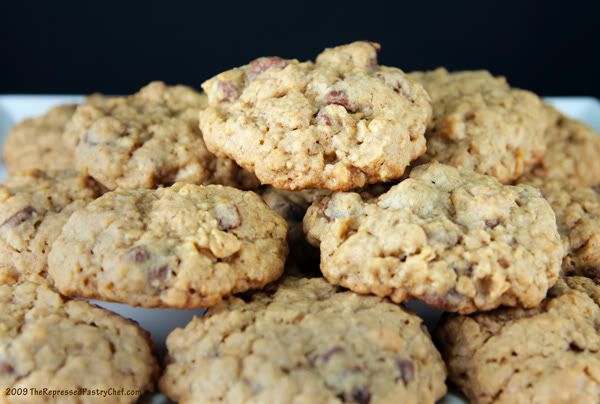 Sadly, it's the last 3-day weekend of summer in the US.  Vacations are winding down, kids are returning to school and in some parts of the country cooler temps are right around the corner.  I had been wanting to make these cookies for a while now but for some reason, tons of other recipes leapfrogged them on the "must make" list.  Luckily, with the extra day this weekend I found some time to actually bake… and I finally made them.  Oh sure, oatmeal cookies might not scream "yay – summertime" but if you ask me they're a good cookie any time of year.   And when they're chewy… and have chocolate chips… they're even better!

I pretty much love oatmeal cookies any way ya make em… with raisins… without raisins… with chocolate chips… without chocolate chips.  Just about the only thing I don't care for in my oatmeal cookies is nuts of any kind.  Sorry… me no likey nuts in my cookies.  I found this recipe on one of my favorite sites, Allrecipes, and it was so highly rated I just had to try it.  They came together quickly and easily… and baked up beautifully.  Even though they're an all-butter cookie, I was surprised that they spread and end up as flat cookies like some of the reviewers mentioned.  Not sure why it didn't happen but I'll take it as a positive sign from the baking-gods and move along thankfully :)  About the only changes I made were omitting the nuts and increasing the baking time.  If you like oatmeal cookies… bookmark this post.  This really is a delicious recipe that I encourage you to try!
Oh and thanks to all my twitter followers for entering my last giveaway! I want to congratulate Karen for winning the copy of A Perfect Scoop by David Lebovitz… the book is on its way.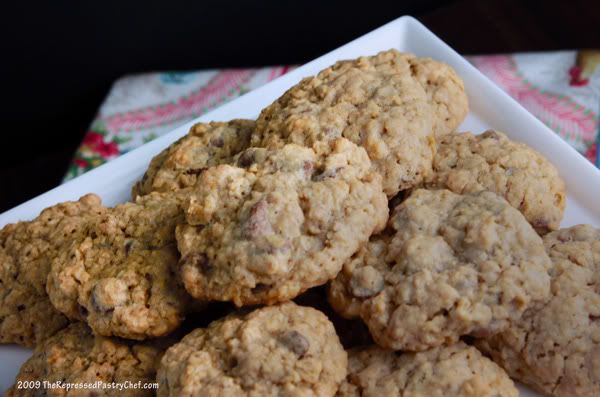 Chewy Chocolate Chip Oatmeal Cookies
Adapted from Allrecipes
Ingredients
1/2 cup butter, softened
1/2 cup packed light brown sugar
1/4 cup white sugar
1 egg
1teaspoons vanilla extract
3/4 cups all-purpose flour
1/4 teaspoon baking soda
1/2 teaspoon salt
1 1/2 cups quick-cooking oats
1/2 cup semisweet chocolate chips
Method
Preheat the oven to 325° F (165° C).
In the bowl of a standing mixer fitted with the paddle attachment, cream together the butter, brown sugar, and white sugar until smooth. Beat in egg then stir in vanilla. Combine the flour, baking soda, and salt; stir into the creamed mixture until just blended. Mix in the quick oats and chocolate chips. Drop by heaping spoonfuls onto ungreased baking sheets. Bake for 15 minutes then remove sheets from oven and cool cookies on sheets for 5 minutes then remove to rack and cool completely.
If you like what you've read, please

Don't miss a single update!
subscribe to The Repressed Pastry Chef RSS feed or
subscribe to The Repressed Pastry Chef by email
Have a delicious day!