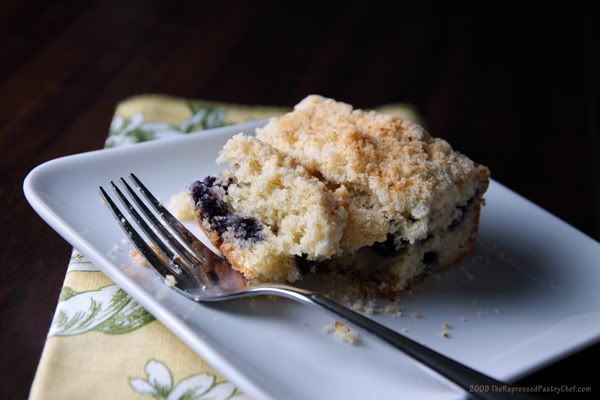 My little blog is just about 18 months old and in that time I've made lots and lots and lots of recipes.  Most of them get posted here since I like to share… and most of them get taken to work since, well, I like to share :)  What can I say – feeding people and knowing I personally made what they're enjoying just makes me feel good.  There are certain books and a short-list of websites I tend to gravitate toward when I'm looking to make something in particular.  But there's one specific website that stands head and shoulders above the rest when it comes to generating rave reviews of what I've made.  In fact, the feedback I got when making this Blueberry Lemon Coffee cake was better than I ever imagined… nearly every comment fell along the lines of "this is simply perfect".
King Arthur Flour has been around since 1790 and is American's oldest flour company.  Yes, that's not a typo… seventeen-hundred-ninety! They've published four award-winning cookbooks and publish an award-winning bi-monthly baking newsletter.  They have a Baker's Hotline which is open 7 days a week and I can personally vouch for how helpful it is.  I've called them more than once and they've gotten me out of more than one confusing/potentially disastrous situation. They've talked with me as if my call was truly valuable and they were genuinely interested in helping.  They've also consistently provided the best recipes I've ever made!
This Blueberry Lemon Coffeecake is just another in the list of home-run recipes I've made from the King Arthur Flour blog, Baker's Banter.  If you've never visited… you must.  If you don't subscribe… you should!!    Remember this chocolate zucchini cake that got so many raves and so many of you made and so many of you emailed me about?  Yup… King Arthur Flour recipe :)  If that doesn't convince you, I don't know what would :) If I had to describe KAF in only two words, those two words would be THEY ROCK!!!
The other night I wanted to make something tasty, but simple, for my coworkers.  I turned to KAF and found this recipe for Blueberry Lemon Coffeecake.  As written, the recipe calls for candied lemon peel (which I didn't have) but in reading thru the blog I discovered it could be substituted with freshly grated lemon zest (which I did have!!).  This coffeecake came together very quickly… very easily and was very very very tasty.  My coworkers devoured it and responded with enormous praise.  They absolutely loved this and most every one of them said it was "amazing", "great", "terrific", "perfect".
I couldn't agree more :)
Don't forget to enter my giveaway for a copy of the David Lebovitz book The Perfect Scoop… you can't win if you don't enter… so… whatcha waitin on…? Go enter!!!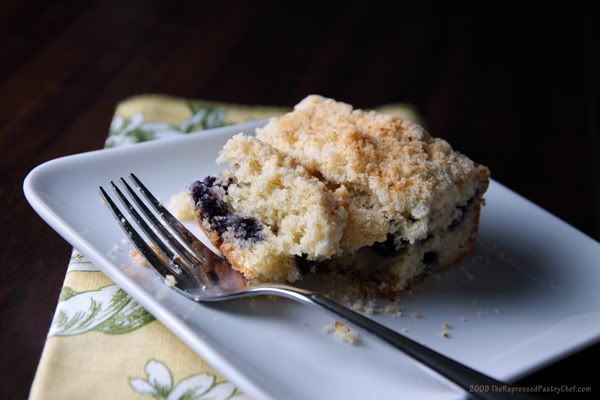 Blueberry Lemon Coffeecake
Ingredients
Streusel topping
1/2 cup granulated sugar
1 cup King Arthur Unbleached All-Purpose Flour
pinch of salt
1/2 cup candied lemon peel (I used 2 tablespoons of freshly grated lemon zest)
6 tablespoons butter, softened
3-4 drops lemon oil or 1/8 teaspoon lemon extract (I used 1/4 tsp lemon extract)
Cake
8 tablespoons butter, softened
1 cup granulated sugar
2 large eggs, room temperature
1 cup sour cream, room temperature
1 teaspoon vanilla extract
2 cups King Arthur Unbleached All-Purpose Flour
1 teaspoon baking powder
1/2 teaspoon baking soda
1/2 teaspoon salt
2 cups fresh or frozen blueberries, well drained
Directions
Preheat your oven to 350°F . Lightly grease a 9″ x 13″ baking pan or two 8″ x 2″ round pans.
For the lemon streusel: In a medium-sized bowl whisk together the sugar, flour, and salt. Gently toss the candied peel until it is well coated. If you prefer smaller pieces of peel, you can pulse the mixture 10-12 times with a food processor at this point. For a bigger lemon "bite" leave as is.
Work the softened butter into the flour/peel mixture until it resembles granola, some larger chunks, some smaller. Sprinkle on the lemon oil and toss again to combine. Set mixture aside.
For the cake: Cream the butter and sugar until light colored and fluffy. Add the eggs one at a time and beat after each addition. Be sure to scrape down the bowl well each time. Beat in the sour cream and vanilla.
In a separate bowl, whisk together the flour, baking powder, baking soda and salt. Add to the batter, mixing until combined. Avoid overbeating or the cake will become tough.
Gently fold in the blueberries until well distributed throughout the batter. Pour into the prepared pan(s) and spread evenly. Sprinkle with the lemon streusel until the batter is completely covered.
Bake for 30-35 minutes or until a toothpick inserted into the center of the cake comes out clean. Cool on a rack for 15-20 minutes before serving.
If you like what you've read, please

Don't miss a single update!
subscribe to The Repressed Pastry Chef RSS feed or
subscribe to The Repressed Pastry Chef by email
Have a delicious day!