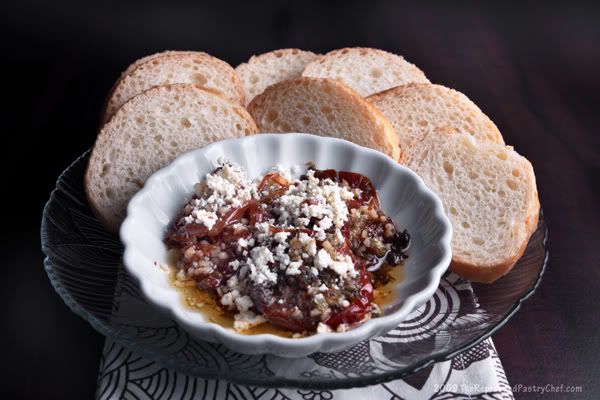 As any foodie knows, you come across far more appealing recipes than you can realistically make.  Sure everyone has their own personal "To Do" list but on top of that, cooks/bakers have their "Must Make" list.  Put the two together and it can feel like a double-whammy comin' atcha sometimes! LOL!  I found this recipe while perusing my usual round-up of must-read blogs (thank heavens for feed-readers!) and it quickly moved up to the top of the "Must Make" list.  I'm glad it did because this is one delicious light-snack / appetizer that's fun to share… uhm… if you can ;)
The recipe came from Teanna over at Spork-or-Foon who found it on Bon Appetit.  While I'm not the world's biggest fan of tomatoes, I do like them and for some reason this recipe draped a seductive arm around my waist and whispered in my ear "make me".  Seriously.  It did.  And I'm glad I listened :)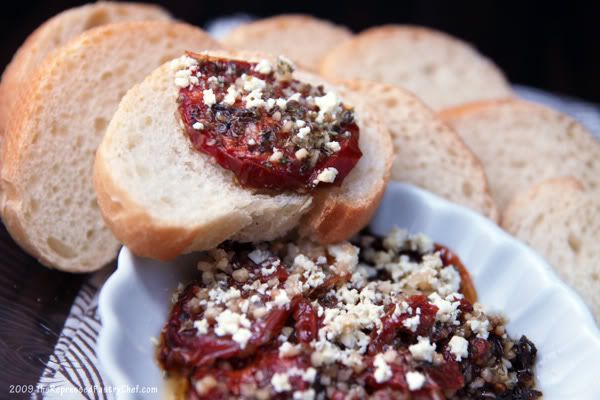 I found the best looking Roma tomatoes and set forth to create this dish.  I started late morning thinking this would be ready quickly and I could have it for lunch.   Didn't quite work out that way.  You see… even though you only roast the maters for 2hrs you then have to wait an additional 2hrs for the flavors to work their magic.  I hadn't factored-in that extra time so I had to come up with something else for lunch that would be light enough to satisfy but not so heavy as to ruin my appetite.  I needn't have worried… this is so incredibly delicious that I could easily find myself noshing on it after declaring myself to be not-at-all hungry :)
The only change I made to Teanna's method is to make 1/2″ slices from my beautiful, plump roma tomatoes and then top the finished dish with herbed feta cheese  Other than that, I followed right behind her down this delectable path.
Don't forget to enter my giveaway for a copy of the David Lebovitz book The Perfect Scoop… you can't win if you don't enter… so… whatcha waitin on…? Go enter!!!
Roasted Roma Tomatoes
Ingredients
1 cup olive oil, divided use
2 pounds roma tomatoes, cut into 1/2″ slices
1 1/2 teaspoons dried oregano
3/4 teaspoon sugar
1/2 teaspoon salt
1 to 2 garlic cloves, minced
2 teaspoons minced fresh Italian parsley
feta cheese… optional… for garnish
Directions
Preheat oven to 250°F.
Pour 1/2 cup oil into 13×9x2-inch glass or ceramic baking dish. Arrange tomatoes in dish and drizzle with remaining 1/2 cup oil. Sprinkle with oregano, sugar, and salt. Bake 1 hour. Using tongs, turn tomatoes over. Bake 1 hour longer. Turn tomatoes over again.
Remove tomatoes (reserving oil) and layer in a bowl; sprinkle garlic and parsley over each layer;  drizzle tomatoes with reserved oil, adding more if necessary to cover. Let stand at room temperature 2 hours.
Garnish with feta cheese and serve on sliced baguette rounds
If you like what you've read, please

Don't miss a single update!
subscribe to The Repressed Pastry Chef RSS feed or
subscribe to The Repressed Pastry Chef by email
Have a delicious day!