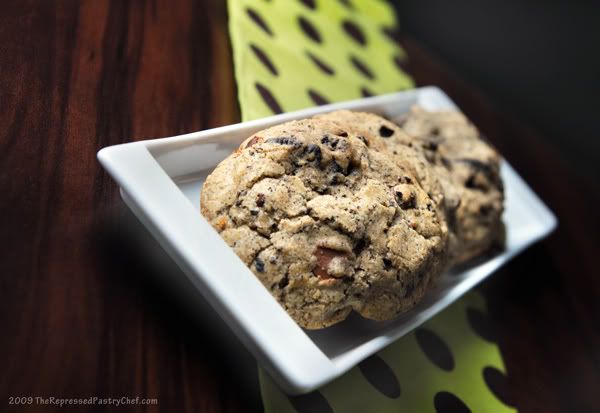 A couple of weeks ago I tried a new recipe for chocolate chip cookies.  If you've read my blog a few times or follow me on Twitter you know I have a big ol' crush on Alton Brown.  What can I say… talent, wit and just enough geek-boy in him to keep me interested in any show he does or book he writes or commercial he stars in.  Yup… I got it reeeeeeeeeeeeal bad for Alton… and I'm not at all ashamed to admit it :)  Alton's show "Good Eats" is one of my favorites and I'll watch the episodes repeatedly never getting bored or restless.  In his episode Three Chips For Sister Marsha he provided us with three different chocolate chip cookie recipes…  The Thin… The Puffy… and… The Chewy.  Out of all the ridiculous number of chocolate chip cookie recipes I've tried, sadly most have turned out like "The Thin" so I have absolutely no desire to make that one.  Previously I've made The Chewy and really liked them so this time I decided to try "The Puffy".  What I liked about that recipe was the cookies retain so much of their height.  I know it's all about personal preference but sorry me no likey flat chocolate chip cookies.  When I made "The Puffy" the cookies were sooooo good that by the time I thought about blogging them, they were all gone!  So this week when I came across the idea of making chocolate chip cookies… with Oreos… I knew exactly what base recipe I'd use.  Once again… thank you Alton Brown!
I like a chocolate chip cookie just how I like my ice cream… with lots of stuff in it!  I think my favorite CC cookie includes semi-sweet chocolate chips, milk chocolate chips, peanut butter chips, coconut and rolled oats… hold the nuts, please.  When I came across this recipe on Nosh and Tell, I turned to a co-worker to ask "do these look good", knowing it was a purely rhetorical question ;)  I knew they'd be a hit with my family too… and they'd be perfectly safe for me since I dislike Oreos immensely.
The concept is a darn good one… your favorite chocolate chip cookie recipe with crushed up Oreo cookies added to the batter.  Frankly it's so ingenious I'm disappointed I hadn't heard of it sooner.  I'll warn you, if you're truly opposed to using shortening, find yourself a different recipe and just add the crushed Oreo cookies to it.  I'm sure the recipe on Nosh and Tell is great… but… my vast, lengthy and extensive experience with baking chocolate chip cookies using all butter results in nothing but a flat, thin cookie.  Recall… me no likey.  If your experience has been different – terrific!  Glad to hear it!  But I tell ya what… I'll make you a deal… you don't try talking me into an all-butter recipe… and I won't try talking you into one that uses shortening.  Deal?  Deal :)
Chocolate Chip Cookies… with Oreos
cookie adapted from Alton Brown
Ingredients
1 cup butter flavor shortening
3/4 cup white sugar
1 cup brown sugar
2 1/4 cup cake flour
1 tsp kosher salt
1 1/2 tsp baking powder
2 eggs
1 1/2 tsp vanilla
2 cups chocolate chips
36 Oreo cookies… crushed
Method
Preheat oven to 350°F and line a baking sheet with parchment or silicon mat.
Soft together the flour, salt and baking powder.  Set aside.
In the bowl of a stand mixer fitted with the paddle attachment, cream the shortening and the sugar.  Add the eggs… one at a time… combining well after each addition.  Add the vanilla and combine.  Add the dry ingredients in three parts.  Add the chips and crushed Oreos.  Mix to combine.
Drop by double-tablespoon onto prepared baking sheet.  Flatten slightly and bake for 15-18 minutes or until edges are lightly browned.  Remove from oven and cool on sheets for 5 minutes before transferring to rack to cool completely.
If you like what you've read, please

Don't miss a single update!
subscribe to The Repressed Pastry Chef RSS feed or
subscribe to The Repressed Pastry Chef by email
Have a delicious day!