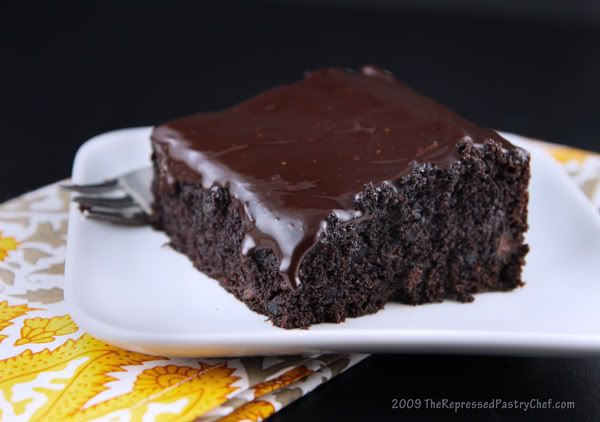 Earlier this week a coworker showed me a recipe for Chocolate Zucchini Cake.  He didn't ask me to make it, but rather just showed me the recipe saying something along the lines of "isn't this interesting".  Of course, he figured once he put the bug in my ear I'd make it.  Some of my colleagues know me quite well ;)  As luck would have it two things came into play… 1) I had two gorgeous zucchini in my fridge just waiting to be used for something special and 2) this coworker is one of the nicest people I've ever met – for him I'd make pretty much anything he wanted.   Unfortunately I did not bookmark the recipe and when I went back to make it couldn't find the site it was from.  I turned to the internet figuring it would be easy to find… I mean, chocolate zucchini cake?  Who ever heard of that?  But I was surprised to see just how many Chocolate Zucchini Cake recipes are out there – trust me, a lot!  After reading thru a whole bunch I decided on this one from the King Arthur Flour company.  Back when I first started baking, I tried many of KAF's recipes… and called their "baker's helpline" (as I call it) many times with what I'm sure were extremely elementary questions.  Yes, I was a total newbie and not ashamed to admit it… if only anonymously… and over the phone ;)  At this point I've lost count of just how many recipes I've tried from King Arthur Flour.  The results are pretty darn consistent and this is just one more that didn't let me down !  This cake is rich, moist, chocolatey, fudgy, dark and… and… and absolutely delicious.
This cake received uber-raves from all who tried it.  There's two full cups of grated zucchini in the recipe and not one person could tell… they all asked me if I was sure about the zucchini.  The only change I made to the KAF recipe was the icing – I chose to go with a pourable ganache.  Other than that I made it as written.  I did grate the zucchini pretty darn large and then press between layers of paper towels to remove the moisture.  But that's the only thing I did which wasn't expressly written.
The kids loved it – DH loved it – my colleagues loved it – and me… me who isn't a big fan of chocolate?… I thought it was very very good!  It's extremely moist and verrrrrrry chocolatey!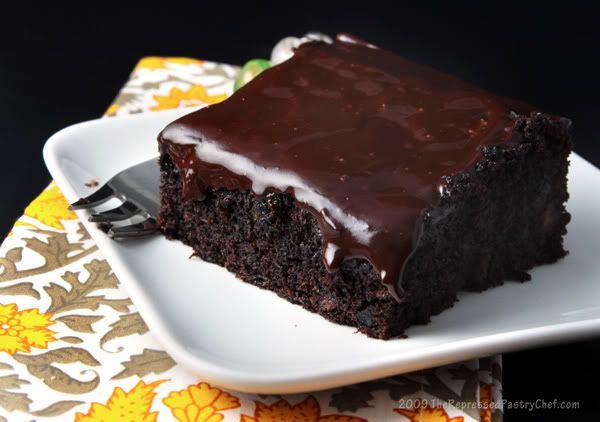 Chocolate Zucchini Cake
Ingredients
… for the cake
1/2 cup (1 stick, 4 ounces) butter
1/2 cup (3 1/2 ounces) vegetable oil
1 3/4 cups (12 1/4 ounces) granulated sugar
1 teaspoon vanilla
1 teaspoon baking soda
1/2 teaspoon baking powder
1/2 teaspoon salt
2 large eggs
1/2 cup (4 ounces) sour cream or yogurt
2 1/2 cups (10 1/2 ounces) King Arthur Unbleached All-Purpose Flour
3/4 cup (2 1/4 ounce) Dutch-process cocoa
2 teaspoons espresso powder, optional but tasty
2 cups shredded zucchini (about one 10″ zucchini, about 12 ounces)
1/2 cup (3 ounces) chocolate chips
… for the icing
6 oz heavy cream
9 oz chocolate chips
Directions
Preheat the oven to 325°F. Lightly coat a 9″ x 13″ pan with baking spray
In a large mixing bowl, cream together the butter, oil, sugar, vanilla, baking soda, baking powder, and salt. Beat in the eggs.
Stir in the sour cream or yogurt alternately with the flour. Then add the cocoa and espresso powder, mixing till smooth. Finally, fold in the zucchini and 1/2 cup chocolate chips.
Spoon the batter into the prepared pan. Bake the cake for 35 – 40 minutes or until a cake tester inserted in the center comes out clean. Remove the cake from the oven and cool on a rack.
To prepare the frosting, heat the heavy cream in a saucepan over medium heat until simmering. Remove from heat and pour over the chocolate chips. Wait 3-5 minutes then stir to combine. It may take a few minutes of stirring for the ganache to come together… but it will :) It will thicken as it cools… when warm (but not hot) pour over cake and smooth with offset spatula. Allow frosting to set for about 30 minutes before serving… or not ;)
If you like what you've read, please

Don't miss a single update!
subscribe to The Repressed Pastry Chef RSS feed or
subscribe to The Repressed Pastry Chef by email
Have a delicious day!