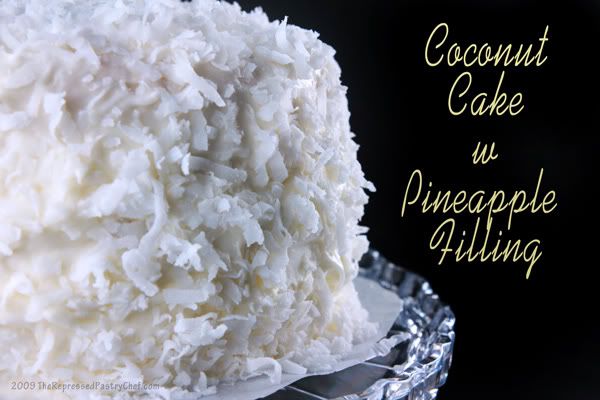 Prior to 2008, to say I was not a fan of coconut would've been a supreme understatement.  A more accurate way of phrasing it would be to say that I despised coconut with the intensity of a thousand burning suns… yup… that was pretty accurate alright.  Then something happened.  I don't know what or why or how but sometime during the first quarter of 2008 I began to like coconut.  Then about a year later I began to LOVE coconut and now I can't seem to get enough of the stuff.  Maybe it's because I now bake coconut things myself instead of buying them from the store?   No clue.  The past couple/three weeks I've had a hankerin for coconut cake and came across a recipe from Paula Deen. It looked rather promising.  You could say it piqued my interest.  But as soon as I thought to add pineapple filling… my stomach shouted "hang a tag on that baby and consider it sold!"
Pineapple is another fruit/flavor I started getting into right around the same time as coconut.    DH thinks this coincides with our trip to Hawaii… and that's possible.  I never disliked pineapple the way I did coconut… but I wasn't a big fan.  DH?  To say he loves pineapple would be a supreme understatement.  Seriously. Seeeeeeeeeriously!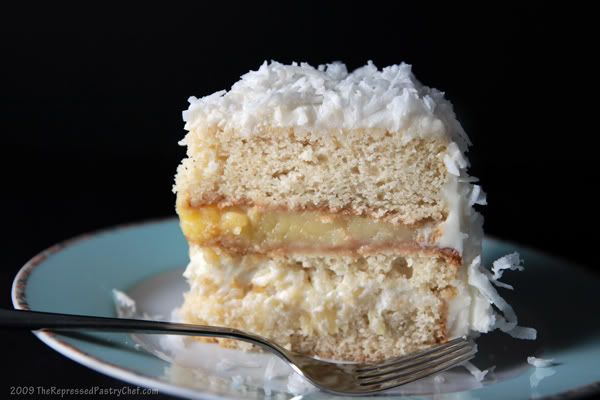 As written, Paula's recipe calls for a sweetened sour-cream and coconut filling between the layers.  Sorry, didn't appeal to me. I contemplated a sweetened greek-yogurt and pineapple filling but in the end decided against it.  I had some leftover cream cheese icing from the carrot cake I recently made and though it would be great between the layers if I mixed in some crushed pineapple!  But there was an ever so slight "problem"…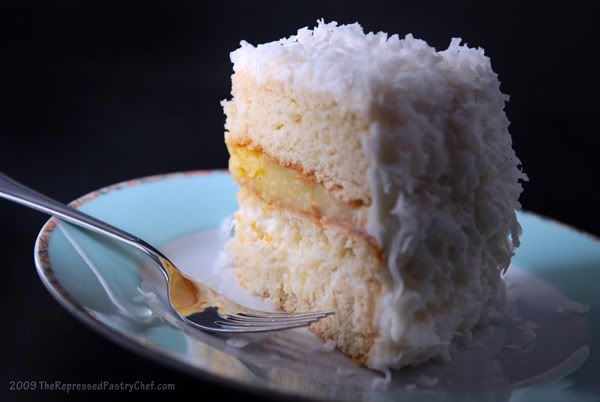 You see… I came across a recipe for pineapple curd… and made it. I made it because it sounded incredibly good!  I mean, I love lemon curd so why not try making pineapple curd.  I made it… it was really good… I had my mind all set on using it between the cake layers… and it was in the cooling stages when I came up with the "cream cheese and crushed pineapple" idea.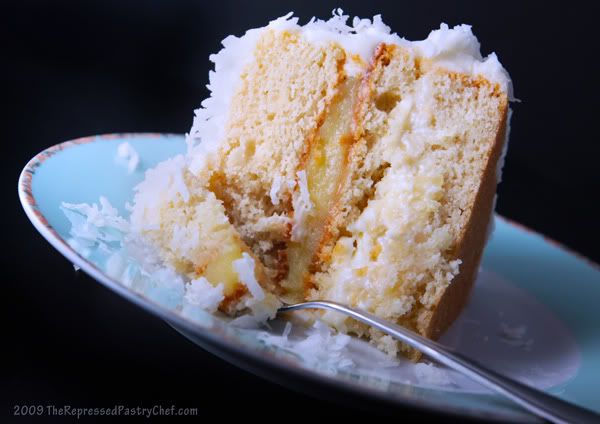 Honestly… I could not decide which filling to use.  I really wanted to use up the end of that cream cheese frosting.  And I really wanted to use the pineapple curd I'd just made.  After what seemed like an eternity (but was probably only an hour) I decided to use both!  Since it's a triple layer cake anyway I ended up with pineapple curd filling between two of the layers… and sweetened cream cheese and crushed pineapple filling between two layers.  Easy solution… and very tasty!
Of course, the pineapple filling is totally optional.  If you're not a fan of pineapple (oh but why not?  it's soooooo good! LOL) omit it entirely and either do Paula's filling recipe or just use frosting.   As for a "recipe" for the sweetened cream cheese and pineapple filling I used… there really isn't one.  I used some leftover cream cheese frosting from this recipe and added some very well drained crushed pineapple .   I can't really say how much of either was used other than to say "some".  It's really personal preference… yours… not mine :)
And I have some news to announce… the winner of my giftcard giveaway is LISA.  She won a $50 gift card to Michael's Arts & Crafts store.  CONGRATULATIONS to Lisa and thanks to all 124 people who left comments.  I'll be doing future giveaways as well.  Some might just be exclusive to my Twitter followers so if you don't already follow me on Twitter, you might just want to!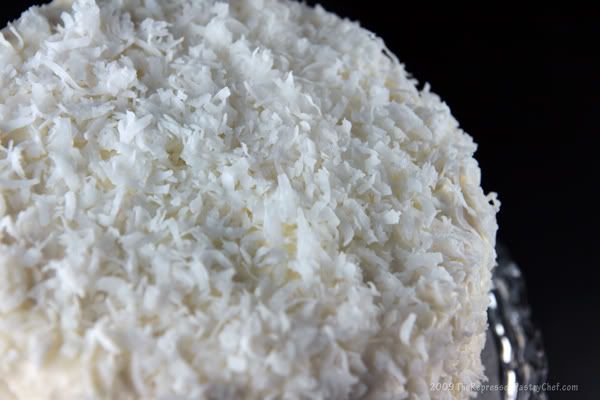 Coconut Cake
Ingredients
1 cup (2 sticks) butter, at room temperature
2 cups sugar
4 eggs
3 cups sifted self-rising flour
1 cup milk
2 tablespoons coconut extract
1 cup shredded coconut – divided use
Method
Preheat oven to 350 degrees F.
Prepare 3 (9-inch) cake pans with baking spray. Using a standing mixer fitted with the paddle attachment, cream butter until fluffy. Add sugar and continue to cream well for 6 to 8 minutes. Add eggs, 1 at a time, beating well after each addition. Add flour and milk alternately to creamed mixture, beginning and ending with flour. Add coconut extract and continue to beat until just mixed. Using a rubber spatula gently mix in half of the shredded coconut. Divide batter equally among prepared pans. Level batter in each pan by holding pan 3 or 4 inches above counter, then dropping it flat onto counter. Do this several times to release air bubbles and assure you of a more level cake. Bake for 25 to 30 minutes or until done. Cool in pans 5 to 10 minutes. Invert cakes onto cooling racks and cool completely
Pineapple Curd Filling
Ingredients
6oz pineapple juice
2 egg yolks
1/4 cup sugar
5 tsp cornstarch
1 Tbsp butter
Directions
Wisk all ingredients together, pour into saucepan, cook (stirring constantly) until mixture thickens… about 3-5 minutes. Remove from heat and stir in the butter.
Cool to room temperature before using.  This forms a skin quickly if left uncovered  so be sure to press a piece of plastic wrap against the surface as soon as it's cool enough to do so.
For final assembly…  place one cake layer on the platter… spread with filling… place second cake layer on top… spread with filling… place third cake layer on top then frost tiered cake with your favorite buttercream frosting or cream cheese frosting.  Use the remaining coconut to sprinkle on top and press into sides.
If you like what you've read, please

Don't miss a single update!
subscribe to The Repressed Pastry Chef RSS feed or
subscribe to The Repressed Pastry Chef by email
Have a delicious day!