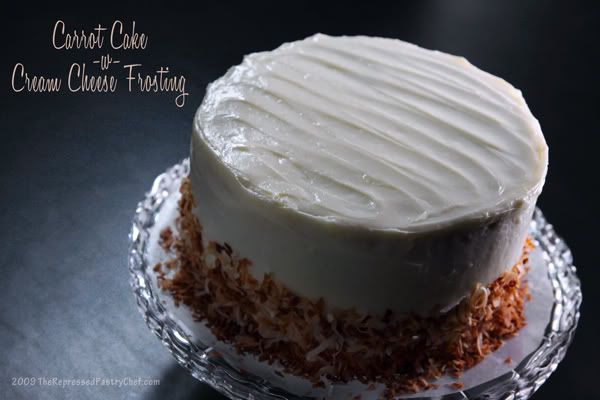 Carrot cake is one of those traditional desserts that people hold near to their hearts. Seems that everyone I've talked to about it has a definite opinion about what makes a carrot cake "good".   Some like it with walnuts… some like it with coconut… some like it with pineapple… some like it with raisins.  I like mine rather plain… without nuts or raisins… definitely with lots of spices… and standing mile-high with just a fringe of toasted coconut.   Whatever your preference, it all starts with a good recipe… and that's where I can help you out!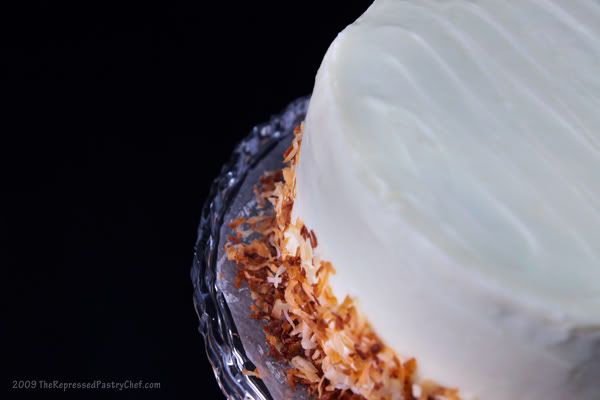 I've made carrot cake only a handful of times in my life… and I think I've eaten it less than that.  Up until a few years ago the thought of a vegetable in my dessert wasn't something I could wrap my brain around.  Another factor was that I'd always seen carrot cakes that were full of walnuts… and sorry to say but me no likey walnuts.  Nothing personal but I'm just not a fan. But when I started baking back in December of 2007, I discovered I could make things the way I like them.  This opened up a whole new world for me and now carrot cake… my carrot cake…is one of my favorites :)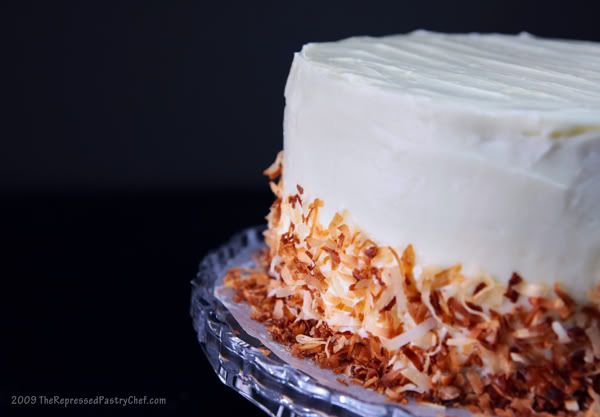 I found this recipe on the Food Network site and was pleased as punch to see that it's from my boyfriend Alton Brown.  What can I say… I have a wicked, mad crush on that geeky-boy and will try pretty much any recipe he puts out there.  This recipe is an absolute winner and you can add raisins or walnuts or well-drained pineapple if that suits your fancy.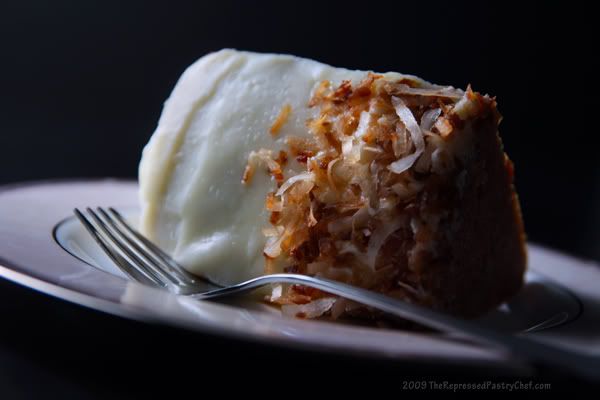 Alton bakes this in a single 9″ round pan… but he uses one that is 3″ high.  I didn't have that size and I was very concerned a single 9″ x 2″ pan would not be enough to contain all the batter.  Instead I used two 7″ x 2″ round pans and made this into a tall layer cake. Next time I might even slice each of the layers in half to create a 4-layer cake… because believe me… there will indeed be a next time!  This cake is moist and delicious… not at all soggy or "wet".  I think Alton's method of tossing the grated carrots in the dry ingredients keeps the moisture content nicely balanced. Another success-factor is grating the carrots a bit larger than what I have done in the past.  Previous recipes I've made used finely grated carrots and it seemed they were almost pureed which added quite a bit of excess moisture.  But this recipe here?  Faaaaaaaaabulous!  I highly recommend you make it. Soon!
Don't forget to enter my giveaway for a $50 gift card… you can't win if you don't enter… so… whatcha waitin on…? Go enter!!!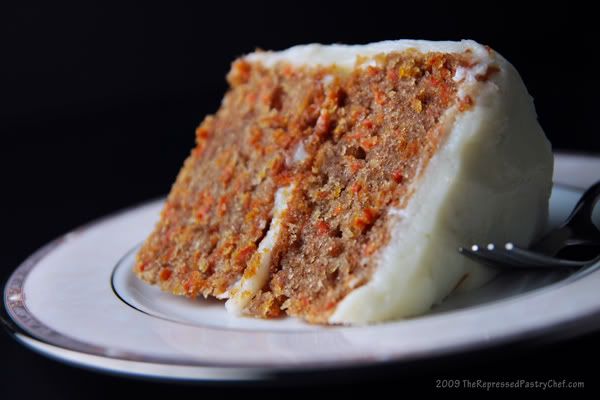 Carrot Cake
Ingredients
12 ounces, approximately 2 1/2 cups, all-purpose flour
12 ounces grated carrots, medium grate, approximately 6 medium
1 teaspoon baking powder
1 teaspoon baking soda
1/2 teaspoon ground allspice
1/2 teaspoon ground cinnamon
1/2 teaspoon freshly ground nutmeg
1/2 teaspoon salt
10 ounces sugar, approximately 1 1/3 cups
2 ounces dark brown sugar, approximately 1/4 cup firmly packed
3 large eggs
6 ounces plain yogurt
6 ounces vegetable oil
3/4 cup toasted coconut – optional
Cream Cheese Frosting, recipe follows
Method
Preheat oven to 350° F.
Prepare two 7" x 2" cake pans with baking spray. Set aside.
Put the carrots into a large mixing bowl and set aside.
Put the flour, baking powder, baking soda, spices, and salt in the bowl of a food processor and process for 5 seconds. Add this mixture to the carrots and toss until they are well-coated with the flour.
In the bowl of the food processor combine the sugar, brown sugar, eggs, and yogurt.
With the processor still running drizzle in the vegetable oil. Pour this mixture into the carrot mixture and stir until just combined. Pour into the prepared cake pans and bake on the middle rack of the oven for 45 minutes. Reduce the heat to 325° F and bake for another 20 minutes or until the cake reaches 205° to 210° F in the center.
Remove the pans from the oven and allow cake to cool 15 minutes in the pan. After 15 minutes, turn the cakes out onto a rack and allow cakes to cool completely. After cakes have cooled completely, frost the top of the bottom cake with cream cheese frosting… add top layer and frost the entire assembled layer cake. Press in toasted coconut around the sides if desired.
Cream Cheese Frosting:
16 ounces cream cheese
4 ounces unsalted butter, room temperature
2 teaspoon vanilla extract
3-4 cups powdered sugar, sifted
In the bowl of a stand mixer with paddle attachment, combine the cream cheese and butter on medium just until blended. Add the vanilla and beat until combined. With the speed on low, add the powdered sugar in 4 batches and beat until smooth between each addition. You may decide that 3 cups is sweet enough… or prefer to go for all 4 cups… entirely up to you.
Place the frosting in the refrigerator for 5 to 10 minutes before using.
Yield: approximately 3.5 cups – you will have extra frosting… or maybe not ;)

If you like what you've read, please

Don't miss a single update!
subscribe to The Repressed Pastry Chef RSS feed or
subscribe to The Repressed Pastry Chef by email
Have a delicious day!