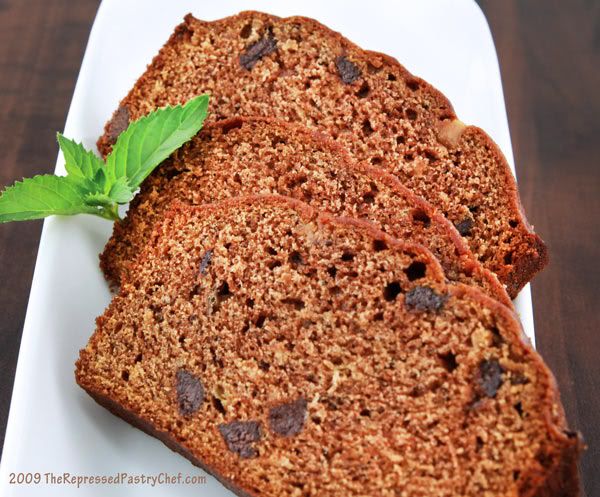 Quick breads are wonderful to make.  They work out great for a variety of occasions… quick breakfast… afternoon tea… last night snack… or even "just because". They great to eat by yourself and even better to eat with others.  Fruity or nutty… sweet, savory or plain… quick breads are terrific.  Last weekend I had some ready-to-bake-with bananas and went in search of something other than the standard banana bread.  Hey… not that there's anything wrong with standard banana bread, mind you, I just wanted to bake something different.  Am I ever glad I made this recipe because as far as I'm concerned any quick bread that is just as fresh and moist on day 7 as it was on day 2, well, that recipe is definitely a keeper!
I was going thru Tastespotting (or was it FoodGawker?) and came across a recipe from The Daily Loaf that caught my eye.  I'm allergic to bananas so I have to trust DH's opinion of flavor combinations he thinks are appealing (get it? bananas?  a-PEEL-ing? oh – now that's punny! LOL).  He's a big fan of banana bread and after I made the Peanut Butter and Banana cupcakes for my dear friend Mr Crankypants last year, my DH is now a fan of PB with banana.  I asked if he wanted me to add anything else to the batter and of course he chose chocolate chips… what can I say… when it comes to DH and the kids, anything that's "good" is always "better" with chocolate ;)  And since I was in the drawer of baking chips I decided to add Reese's peanut butter chips too :)  Was this decision based in part on the thought that I could munch on a few pb chips under the guise of "hey, I'm bakin here"? Well… you be the judge ;)
The ingredient list is simple and you probably have most of the items on hand. If you're looking at these pictures and wondering why my bread looks so dark, the only thing I can say in my defense is that I happen to LOVE cinnamon and rarely "measure" it.  Instead I just add it… and add a little more… and then add a little more since I just LOVE cinnamon.  If you're thinking "but… but… since you're allergic to bananas you wouldn't be eating this bread" let me just say that you're absatively correct… but I think others should LOVE cinnamon too so I kept adding it just the same :)  The way I feel about cinnamon is how DH feels about chocolate… if a little is "good" then a lot is "better" hahahahahahahahaha :)    If you're not as big of a cinnamon fan (why not?  you really should be! LOL!) just add the amount called for in the recipe and your loaf will be lighter in color :)
I made it last Saturday, DH enjoyed a slice that night… I took it to work on Monday and on the way realized I'd forgotten to photograph it.  No worries, I cut off a large chunk, enrobed it in plastic wrap, tucked it in to a ziplock-style baggie… and let my colleagues enjoy the rest of it.  And enjoy they did!  This quick bread was gone in a flash!  I brought home the chunk and promptly forgot about it as I became engrossed in a million other things.  This morning… a full week after baking… I unwrapped it, sliced it, photographed it and let DH have at it.  It certainly felt moist and fresh to me but he was the real judge.  He said it was just as good as the day I made it.  So there ya have it… I can say with confidence this peanut butter banana bread with chocolate chips (oh, and peanut butter chips too!) is a keeper of a recipe :)
And btw… have you entered my giveaway for a $50 Michael's Arts & Crafts store giftcard?  You can't win if you don't enter!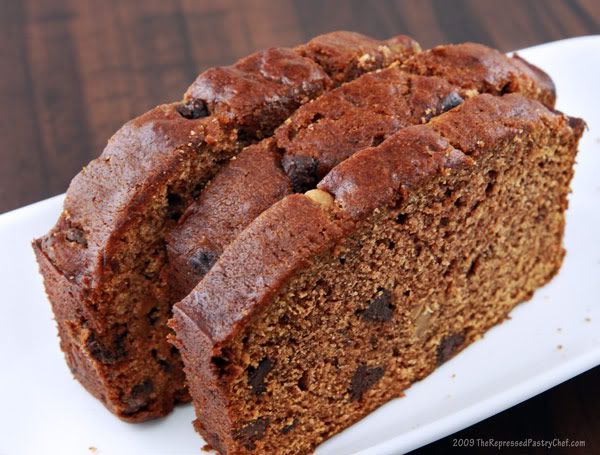 Peanut Butter Banana Bread w Chocolate Chips
Ingredients
3 ripe bananas, mashed
1/3 cup melted butter
3+ tablespoons softened peanut butter (nuke it in the microwave for 30 seconds)
1/2 cup white sugar
1/2 cup light brown sugar
1/2 cup chocolate chips
1/4 cup peanut butter chips
1 egg, beaten
1 teaspoon vanilla extract
1 teaspoon baking soda
A pinch of salt (Kosher, if you have it)
1 1/2 cups flour
2 teaspoons cinnamon
1 teaspoon nutmeg
Directions
Preheat oven to 350° F.
In a large bowl, mix together the bananas, peanut butter, and melted butter by hand or with a hand mixer on low speed. Mix in the sugars, egg, and vanilla. Sprinkle the baking soda, salt, and spices over the mixture, then mix to combine. Fold in the flour in 3 parts by hand. Add the chocolate chips and the peanut butter chips mixing only enough to combine. Do not over mix.
Pour mixture into a buttered loaf pan. If using a 4?x8? loaf pan, bake for about 1 hour. If using a mini loaf pan, bake for 25-30 minutes. When a toothpick inserted comes out clean, it's done.
Allow to cool for a few minutes before removing and slicing.
If you like what you've read, please

Don't miss a single update!
subscribe to The Repressed Pastry Chef RSS feed or
subscribe to The Repressed Pastry Chef by email
Have a delicious day!