As we near the close of another month that means it's time for another Daring Bakers reveal. The July Daring Bakers' challenge was hosted by Nicole at Sweet Tooth. She chose Chocolate Covered Marshmallow Cookies and Milan Cookies from pastry chef Gale Gand of the Food Network. We had the choice of making one… or both… of the cookie recipes and I chose the Milans.  They're very similar to Pepperidge Farm's Milanos which are close to being our favorite store-bought cookies so of course I had to make the Milans.  Ha!… as if I had a choice! LOL!!
These cookies really could not be any easier to make.  The ingredient list is rather simple and I'm betting you have most, if not all, of the items in your pantry right now!  Butter, sugar, flour, egg whites, lemon and vanilla extract, chocolate and cream. See, I knew it, you have them!  And I'm also willing to bet you'll soon be making these delectable cookies… oh, did I say "soon"?  I meant "very soon" :)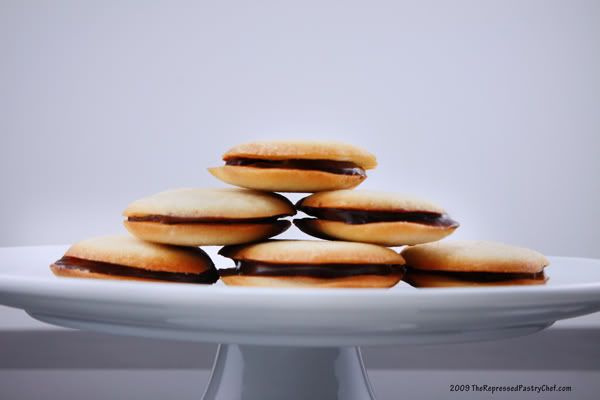 Make this recipe a keeper!

Milan Cookies
Recipe courtesy Gale Gand, from Food Network website
Makes about 3 dozen cookies
Ingredients
• 12 tablespoons (170grams/ 6 oz) unsalted butter, softened
• 2 1/2 cups (312.5 grams/ 11.02 oz) powdered sugar
• 7/8 cup egg whites (from about 6 eggs)
• 2 tablespoons vanilla extract
• 2 tablespoons lemon extract
• 1 1/2 cups (187.5grams/ 6.61 oz) all purpose flour
• Cookie filling, recipe follows
Cookie filling:
• 1/2 cup heavy cream
• 8 ounces semisweet chocolate, chopped
• 1 orange, zested
Method
1. In a mixer with paddle attachment cream the butter and the sugar.
2. Add the egg whites gradually and then mix in the vanilla and lemon extracts.
3. Add the flour and mix until just well mixed.
4. With a small (1/4-inch) plain tip, pipe 1-inch sections of batter onto a parchment-lined sheet pan, spacing them 2 inches apart as they spread.
5. Bake in a preheated 350 degree oven for 10 minutes or until light golden brown around the edges. Let cool on the pan.
6. While waiting for the cookies to cool, in a small saucepan over medium flame, scald cream.
7. Pour hot cream over chocolate in a bowl, whisk to melt chocolate, add zest and blend well.
8. Set aside to cool (the mixture will thicken as it cools).
9. Spread a thin amount of the filling onto the flat side of a cookie while the filling is still soft and press the flat side of a second cookie on top.
10. Repeat with the remainder of the cookies.
I chose to omit the orange zest and instead use mint extract… not measuring it, just adding "some" to the chocolate mixture.  This created my version of "Mint Milano" cookies… yes… yes… yes… from Pepperidge Farms! LOL!!  Seriously these are some really good cookies and thanks to the Daring Bakers I'm glad I learned to make them.
If you like what you've read, please

Don't miss a single update!
subscribe to The Repressed Pastry Chef RSS feed or
subscribe to The Repressed Pastry Chef by email
Have a delicious day!