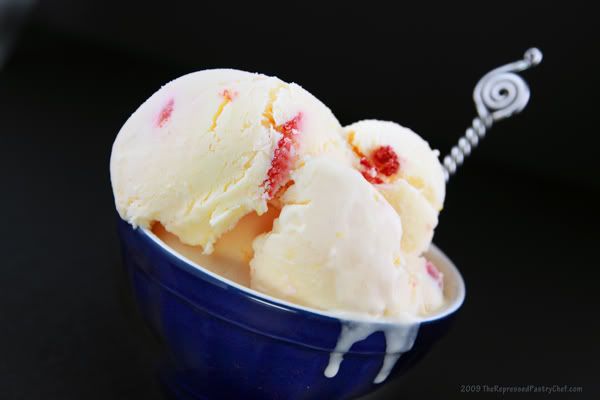 As much as I love lemon, I'm always on the lookout for another lemony dessert recipe.  And when I can't really find one… I make it up!  Such is the case with this ice cream recipe.  Terrific custard-based lemon ice cream with chopped, macerated, fresh strawberries added in.  When strawberries are added to lemonade, they call it "Strawberry Lemonade"… so I decided to name this my recipe for Strawberry Lemonade Ice Cream (please overlook the fact there's no *lemonade* involved! LOL!).

Make this recipe a keeper!

Lemon Ice Cream
1 1/2 cups heavy cream
1 cup half-and-half
3/4 cup sugar
2 tablespoons finely grated fresh lemon zest
5 large egg yolks
1/2 cup fresh lemon juice
1 tablespoon limoncello, or other lemon-flavored liqueur, or grappa
In a medium, heavy saucepan, bring the cream, half-and-half, sugar, and zest to a boil, stirring occasionally until the sugar is melted. Remove from the heat.
In a medium bowl, beat the egg yolks until thick and pale, about 2 minutes. In a slow stream, whisking constantly, add about 1 cup of the hot cream mixture to the egg yolks. Beat until well incorporated. Return the yolk mixture to the saucepan with the hot cream and bring to a bare simmer. Cook until a thick custard forms, and the mixture reaches 170 degrees on an instant-read thermometer, about 6 minutes. Remove from the heat and strain through a fine-mesh strainer into a clean container. Stir in the lemon juice and limoncello, and cover with plastic wrap, pressing down against the custard to prevent a skin from forming. Refrigerate until well-chilled, about 2 hours.
Transfer to an ice-cream maker and process according to the manufacturer's instructions. Transfer to an airtight plastic container and freeze until ready to serve.
~~~~~~~~~~~~~~~~~~~~~~~~~~
While the ice cream base was chilling, I set out to prepare the berries.  You can add as much or as little as you like… and adapt the amounts to your personal preference.  Wash and hull the fresh strawberries… cut into pieces… place in airtight plastic container… add a few tablespoons of sugar (this is to get the berries to release their juices – I use about 2 tablespoons of vanilla sugar)… add a few splashes of vodka (this is to prevent the berries from freezing solid -  use about a tablespoon)… cover and refrigerate until the ice cream has finished churning and has been transferred to the container for freezing.  Using a fork, remove the strawberries from the container and add to the ice cream.  You may choose to add the juice… I did not want "pink" ice cream so that is why I used the fork and removed only the berries.  Using a rubber spatula, combine then proceed to cover and freeze until ready to serve.
If you like what you've read, please

Don't miss a single update!
subscribe to The Repressed Pastry Chef RSS feed or
subscribe to The Repressed Pastry Chef by email
Have a delicious day!