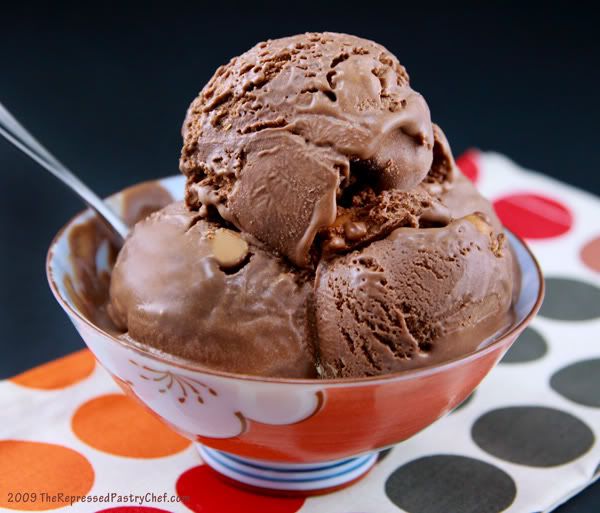 Another ice cream recipe?  Oh yeah… another ice cream recipe!  This one is rich, full-flavored and not for the faint of heart.  While it might have been said a time or two that I'm not a huge fan of chocolate, there are a couple of chocolate recipes that are good enough to make me change my mind.  One is the Black Magic chocolate cake and the other is this adaptation of the chocolate ice cream recipe from David Lebovitz.  Though I may not be a chocoholic and can't honestly say that love chocolate… I do love THIS chocolate ice cream!
With temperatures consistently staying above 103°F lately, I've had plenty of opportunity to make ice cream lately.  Typically I won't invest the time or energy to make a custard-base but I'd heard so many incredible things about this recipe that I felt I had no choice.  If I was going to make a premium-level chocolate ice cream, I was going to make a premium-level chocolate ice cream :)  Looking at the list of ingredients, if the amount of cream doesn't get you, the number of egg-yolks probably will.
I can say this recipe is rather forgiving which is something I did not expect.  The final step in creating the custard is bringing it to 170°F.  When my custard reached 170°F, it did not look thick enough.  Over the next 15 seconds I thought about what to do and of course I made the decision to continue heating it.  WRONG ANSWER!!!  It went from looking "not thick enough" at 170°F to ohmygawd-it's-curdling in the blink of an eye.  Removing it from the heat did nothing since the pot was extremely hot and the curdling continued.  Attempting to pour it thru a fine mesh sieve at this point was rather ridiculous… though I did give it The Ol' College Try.  The straining wasn't happening.  It just Was. Not. Happening.  Being unwilling to throw in the towel I just added the rather curdled custard and kept on going hoping… and praying… it would still turn out okay.  And ya know what?  It did!  Surprisingly the mixture smoothed out and the ice cream was fantastic.  Keep in mind I do not recommend making my mistake!  Instead, be mindful of the temperature of your custard and remove it from the heat when it reaches at most 170°F.  As I learned,  it will continue to thicken even after you remove the pot from the stove ;)
After all is said and done, this is an amazing chocolate ice cream.  DH didn't want "just" chocolate ice cream so at his urging I added the peanut butter chips.  And I'm glad I did because the chocolate is soooooo incredibly rich that the occasional peanut butter chip was a welcome treat and added a nice level of complexity to the overall flavor of the ice cream itself.  I needed a tall glass of ice cold water with this one! LOL.  It's rich… very rich… and tailor made for a serious chocoholic.  Even if you're not a chocoholic I am confident this chocolate ice cream will win you over!!!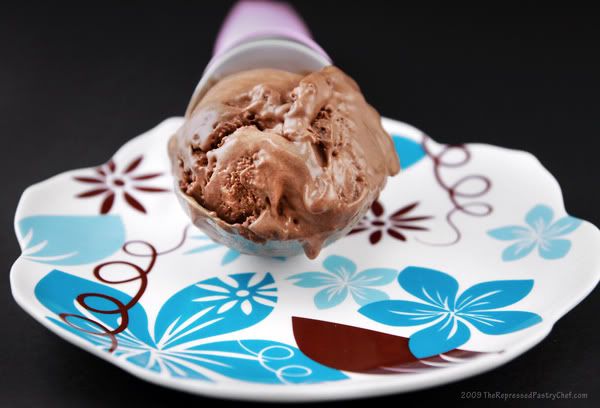 Make this recipe a keeper!

Chocolate Peanut Butter Chip Ice Cream
adapted from David Lebovitz
Makes about 1½ quarts

Ingredients
3 cups heavy cream
4½ tablespoons unsweetened Dutch-process cocoa powder
4 ounces bittersweet chocolate, chopped
3½ ounces semisweet chocolate, chopped
1½ cup whole milk
1 cup granulated sugar
Pinch of salt
7 large egg yolks
¾ teaspoon vanilla extract
¾ cup peanut butter baking chips
Method
1. Warm  half of the cream with the cocoa powder in a medium saucepan, whisking to thoroughly blend the cocoa. Bring to a boil, then reduce the heat and simmer at a very low boil for 30 seconds, whisking constantly. Remove from the heat and add the chopped chocolate, stirring until smooth. Then stir in the remaining  cream. Pour the mixture into a large bowl, scraping the saucepan as thoroughly as possible, and set a mesh strainer on top of the bowl.
2. Warm the milk, sugar, and salt in the same saucepan. In a separate medium bowl, whisk together the egg yolk. Slowly pour the warm milk into the egg yolks, whisking constantly, then scrape the warmed egg yolks back into the saucepan.
3. Stir the mixture constantly over the medium heat with a heatproof spatula, scraping the bottom as you stir, until the mixture thickens and coats the spatula (170°F on an instant-read thermometer). Pour the custard through the strainer and stir it into the chocolate mixture until smooth, then stir in the vanilla. Stir until cool over an ice bath.
4. Chill the mixture thoroughly in the refrigerator, then freeze it in your ice cream maker according to the manufacturer's
instructions. (If the cold mixture is too thick to pour into your machine, whisk it vigorously to thin it out.) With about 10 minutes remaining in the churning cycle, add the peanut butter chips and continue churning until considered done by the manufacturer's instructions.
If you like what you've read, please

Don't miss a single update!
subscribe to The Repressed Pastry Chef RSS feed or
subscribe to The Repressed Pastry Chef by email
Have a delicious day!