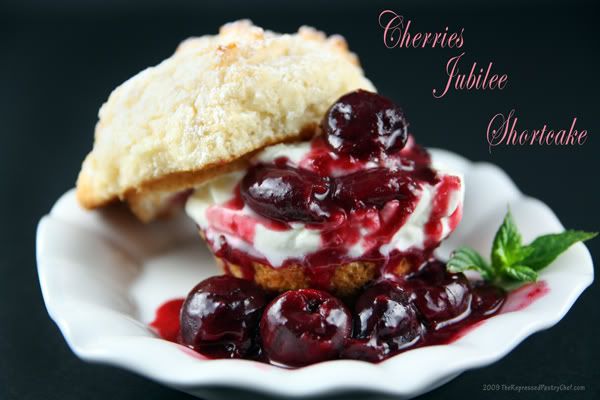 When it comes to quintessential summertime desserts, shortcake pretty much ranks right up there with the best of contenders. Typically it's made with strawberries piled over whipped cream and here on the west coast served over a slice angel-food cake or pound cake.   But in other places it's served over an actual short-cake that often looks somewhat like a biscuit though all similarities end right there.  Done right, shortcake can transport you to another place and leave you feeling like you've never had anything like that before.  Well, all I can say is I must've done something right because this Cherries-Jubilee Shortcake did just that!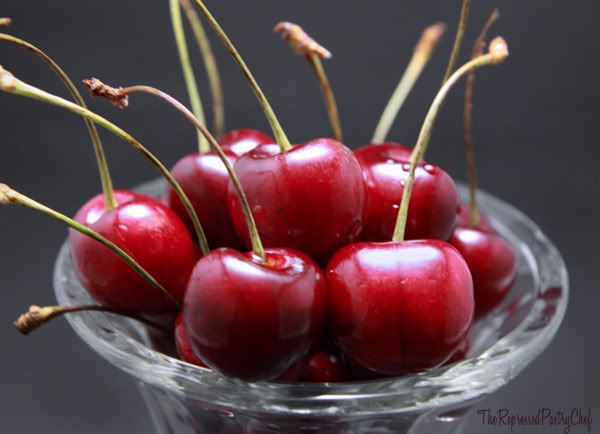 Recently a baking buddy lamented how she hated going grocery shopping.  I couldn't quite understand that as I absolutely love grocery shopping.  But then I thought about it and realized that I love the shopping part of it… I love perusing the aisles and deciding what I will purchase… but I hate unloading the cart… I hate loading the bags back into the cart only to have to unload them into the car and then unload them into the house and put everything away.  She's right… taking into account all the tasks involved in grocery shopping, I pretty much hate it too! LOL! But I do love being in the store and deciding what I'm going to buy.  When the summer fruits are at their peak, I could spend hours in the produce section touching… sniffing… contemplating all the different recipes I could make.  And now that cherries have finally come down in price, I've been unable to resist buying (and baking with) them.  Since I have a wonderful cherry pitter I find the fruit bags practically jump into my cart when I'm in the market and beg me to take them home ;)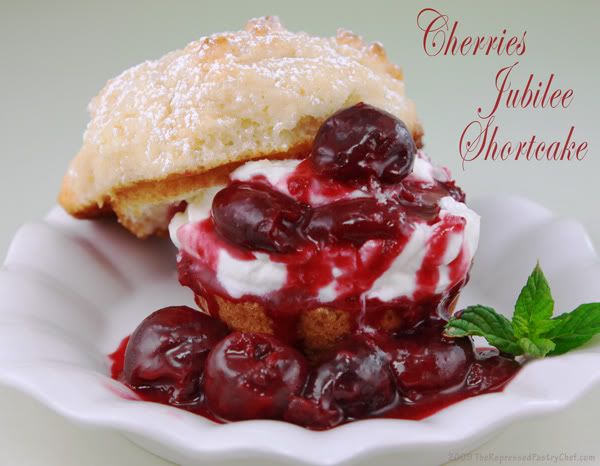 If you want to take your shortcake to a whole new level, I encourage you to make these shortcakes.  They truly are AMAZING and have a je ne sais quoi that pretty much defines them! They're unlike anything I've ever had before as the base of my shortcake and as soon as I came across the recipe I knew they'd be PERFECT for the Cherries Jubilee Shortcake that had been on my brain for days.  They're light… but not at all like angel-food cake.  They've got a slightly-crunchy, domed top that tastes heavenly and looks gorgeous with or without a sprinkling of powdered sugar. Oh let me stop talking about them and just say this… MAKE THEM!  Make them and you'll see what I mean :)
Make these recipes a keeper!

Shortcakes
Yield: Approximately 6 to 8 Shortcakes
Note: I halved all ingredients and got 6 very good sized shortcakes
Ingredients
1 lb. (approximately 3 cups) All-Purpose Flour
1 1/4 oz. (approximately 2 Tablespoons) Baking Powder
4 oz. (1/2 cup) Granulated Sugar
4 oz. (1/2 cup or 1 stick) Butter
2 each Eggs
1 1/2 cup Half-N-Half (or 3/4 cup Heavy Cream and 3/4 cup Milk)
Additional Granulated Sugar (for sprinkling on top)
Powdered Sugar (for dusting)
Method
Dry mix the Flour, Sugar, and Baking Powder in a bowl or food processor.
Cut in the Butter (or pulse on a food processor) until the mixture is crumbly and looks like coarse cornmeal. If using a food processor remove the mixture from the processor bowl and put it in another bowl.
Beat the Eggs with the Half-N-Half (or Cream and Milk) and add this to the Flour mixture. Stir in with a fork until it is combined, but do not beat. It should still be wet and sticky.
Drop by scoopfuls onto a sheetpan lined with parchment, or scoop into cupcake or muffin cups, or a greased muffin tin. Generously sprinkle the tops with Granulated Sugar.
Bake in a 400 to 425 degree Fahrenheit oven (use 400 if you have a convection oven or 425 for a standard oven) for approximately 12 to 15 minutes, or until the tops are a deep golden brown.
Mike indicates these should be allowed to cool slightly before splitting and assembling, but the dessert is best when the shortcake is still fresh and warm. You can freeze these and reheat them later, if you wish.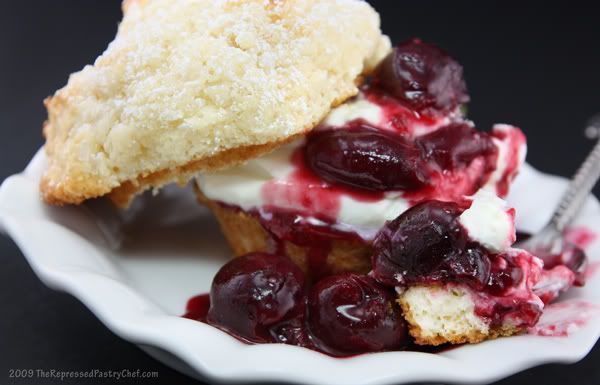 The cherries jubilee sauce that I used came together beautifully and tastes fabulous.  Of course you can flambé it with alcohol or serve it warm over vanilla ice cream but I chose to let the sauce rest to room temperature and then spoon it over whipped cream.  I did not taste the the lemon in this sauce however my lemon-sensitive DH certainly did.  I thought it added a cleanness to the flavor and kept the sauce from being overly-sweet but he said it gave the sauce quite a pucker.  I didn't notice that at all and DD didn't mention it but DH's comments are good to keep in mind when making this sauce and deciding how much (if any) lemon and zest you want to add.
Cherries Jubilee Sauce
Adapted from Wolfgang Puck
Ingredients
1 pound fresh ripe cherries, pitted
3 tablespoons unsalted butter
1/3 cup sugar
2 tablespoons lemon juice
1 tablespoon grated lemon zest
Method
With a cherry pitter, remove the pit from each of the cherries. Discard the pits and set the pitted cherries aside in a bowl.
In a medium saute pan, melt the butter over medium heat. Sprinkle in the sugar and stir until it combines with the butter and begins to melt. Continue cooking until it begins to turn light golden – about 1 to 2 minutes.
Add the pitted cherries to the pan along with any juices that have collected in the bowl. Saute the cherries, stirring frequently, just until they begin to soften and give up some of their juices about 3 to 4 minutes. Stir in the lemon juice and lemon zest.
If you like what you've read, please

Don't miss a single update!
subscribe to The Repressed Pastry Chef RSS feed or
subscribe to The Repressed Pastry Chef by email
Have a delicious day!