To claim that it's hot would be a supreme understatement. It was 108°F at my house this afternoon so ice cream was definitely on the brain.  This is one I made last weekend and it went over very well with the family.  The price of cherries has finally come down and I've been buying a lot of them lately.  Of course this translates into a lot of cherry desserts :)
A couple of weeks ago when I made the Chocolate Mary Ann Cake I had far more batter than my pan could handle.  I made the excess into little cakelets and froze them for another time knowing they could easily be defrosted and put to tasty use!  Let's see… chocolate cakes… cherries… cream… the combination sounded like Black Forest cake to me.  And it's such a good dessert that I looked for a way to translate it into an ice cream. While often in the heat of the summer, cake can be a bit too heavy… but there's always… always… room for ice cream :)
Unfortunately I don't really have an actual recipe to share with you.  I used a typical ice cream base of milk, cream, sugar and vanilla… and to it I added some chopped up cherries.  I put this in my KitchenAid Ice Cream Maker attachment and let it churn away.  After about 20 minutes I added some of the crumbled up cake pieces and churned for another 5 minutes then turned it out into a covered container and left it in the freezer for a few hours. Sometimes you don't have an actual recipe and you need to be willing to experiment a bit and see what happens. I'm glad I did in this case because the end result was really tasty… and a yummy way to beat the summer heat!!!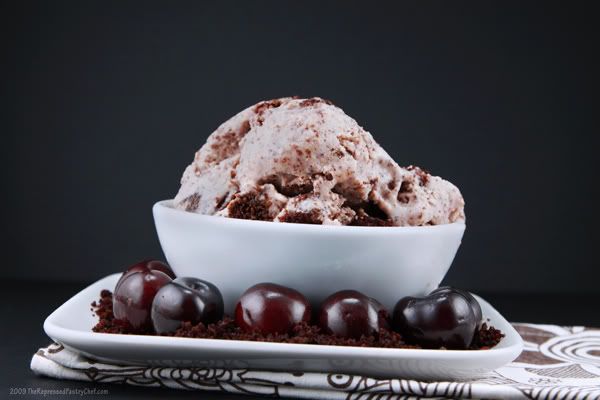 So break out your ice cream maker… and try your hand at making ice cream.  The flavors and variations are almost endless.  There's ice creams, sorbets, yogurts, gelatos and many vegan styles as well.  Don't be inhibited – give it a go and I'm confident you can succeed!
If you like this, please

Have a delicious day!