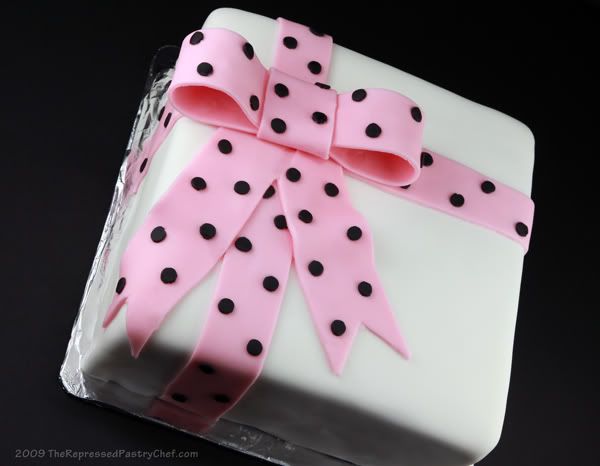 Well, here it is… my first cake for Wilton course #3.  The class is all about fondant.  Fondant… fondant… and more fondant.   And that's A-ok with me because the opportunity to learn to work with fondant is pretty much the reason I took this class :)   One thing I've learned along the way is while I may not enjoy eating fondant I surely do enjoy decorating cakes with it!!!
For our first cake the requirements were pretty straightforward…
8″ square cake (3″ tall)… check
covered with rolled fondant…

check

decorated with a vertical and a horizontal rolled fondant ribbon…

check

adorned with a rolled fondant bow… check
and ta-daaaah… this was my result :)  I had a week to stress about contemplate this cake and I came up with all sorts of designs and color-concepts along the way.  But in the end I decided to go with the "less is more" idea and keep it (for me) simple with just a pink and black polka-dot theme.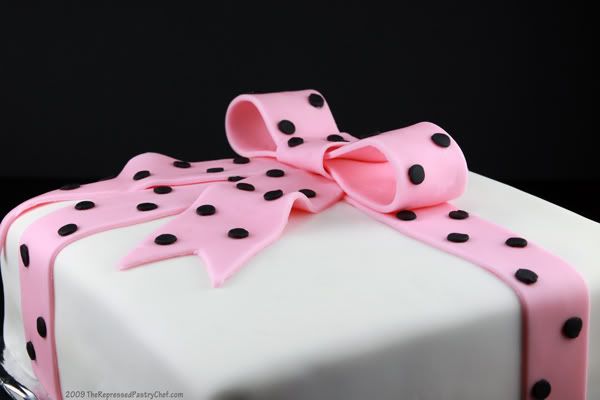 Inside, the actual cake is nothing spectacular.  It's a simple double-layer box cake mix with a layer of homemade lemon curd in between.  What can I say… I had to get my lemon fix in there :)  As much as I was stressing over contemplating the actual look of the cake I didn't want to worry about the inside as well.  And hey, there is absolutely nothing wrong with using box cake mix so please no flaming emails :)
Working with fondant is soooooo much easier than I really thought it would be.  For this cake I actually used two different brands of fondant.  The white fondant covering the cake is Wilton brand.  The pink ribbon and black polka dots are Satin Ice brand.  I'd initially heard the Wilton brand fondant was difficult to roll out… difficult to work with.  I found this to absolutely not be the case.  The Wilton brand fondant rolled out beautifully and I had zero difficulty working with it.  Maybe I got lucky, I dunno… but it caused me no trouble at all :)   I will be honest and say this though… the Wilton brand fondant is vvvvvvvvery sweet; over-the-top, cloyingly sweet.  Keep in mind I'm not a fan of eating fondant in the first place but this stuff is just not something I could even consider eating.  On the other hand… the Satin Ice brand tastes a helluva lot better! LOL!  Sure, it's sweet but to me and my colleagues who ate this cake it's not sweet like the Wilton brand (though DH didn't really notice a significant difference).  The Satin Ice brand of fondant rolls out beautifully as well and although the cost is higher than Wilton, Satin Ice is the brand I'm now buying.  I found it very easy to color (pink) and it just felt better in my hand.  For the black polka dots, I actually bought black (vanilla flavored) fondant because it is vvvvvvvvery difficult to take white fondant and successfully color it black.  Sure, you can add coloring to it… and keeeeeeeeeep adding coloring to it… but you end up with more of a dark grey vs. black.   For strong colors like black, red, some blues, some hot pinks, etc, it's just easier to buy colored fondant.  And yes, you can make your own fondant instead of buying it at all.  There are fondant recipes floating all over the internet though I haven't tried any of them yet.  I'm sure I will attempt to make my own at some point :)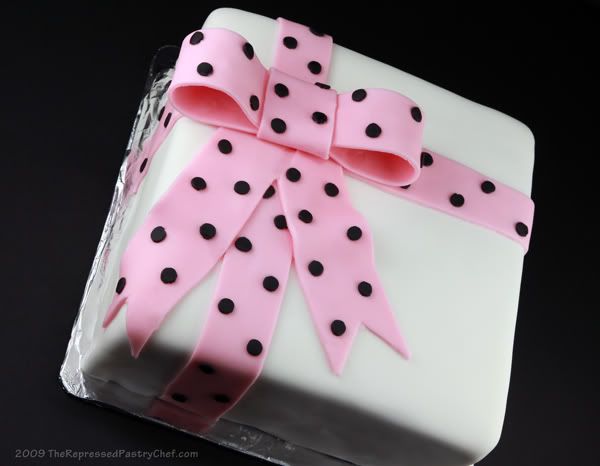 To create this cake you bake the two layers, cool completely, level as needed, fill if desired and then crumb-coat using buttercream.  I prefer to freeze the cake prior to crumb-coating and then freeze again before proceeding on with the fondant.  To decorate you roll out the fondant, cover the cake, trim the excess, roll out – cut – attach the ribbon pieces then roll out – cut – attach the bow pieces. To keep the bow from collapsing I tucked rolled-up paper towel pieces inside the loops until it was completely dried (overnight).  I made the black polka dots using a round icing tip and attaching them to the pink ribbon using a tiny bit of water.
So there you have it… my first cake project from Wilton Course #3.   If you're feeling a bit intimidated by fondant (like, uhm, I was!) definitely don't be.  There are some really good video tutorials out on the internet that will show you how to do it so don't believe the only way to learn is by taking a class.  Fondant is pretty darn easy… fondant is definitely fun… and I'll be making more fondant covered cakes in the future!
If you like this, please

Have a delicious day!