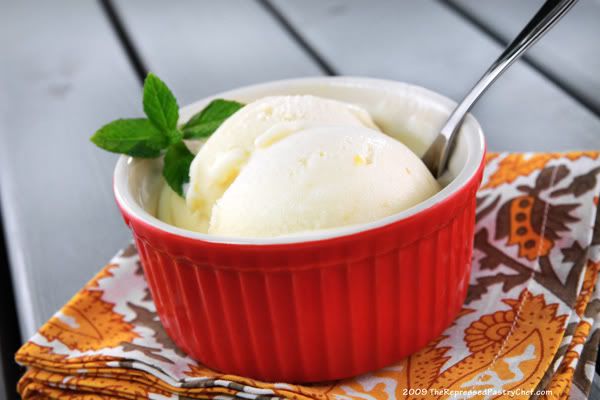 Today is a typical Southern California Summer Scorcher.  It may only be 98° right now (2:00 pm PDT) but if it's anything like yesterday the temps will climb another 8° or so before we hit the max in about 2 more hours.  If you follow me on Twitter you'll know I was struggling to get these photographs done before I had lemon gelato soup! LOL!! And as I mentioned on Twitter, the only option I really had was to… uhm… well… hmmm… eat it!!!
Up until now, I'd never made gelato before… but I can tell you right now this will not be the last time I do.  Of all the frozen desserts that exist, gelato may just be my favorite! But… it's gotta be a GOOD gelato… not some cheap, low-end, gelato-wanna-be.  As explained by wikipedia, gelato is the Italian regional variant of ice cream.  But for me, all comparisons end there. Gelato has a different texture… a different mouth-feel than ice cream.  I can't quite describe it but I can tell you it's damn good!  No matter how much I love lemon ice cream it just doesn't have the same smoothness as lemon gelato.  Now, don't get me wrong… they're both very enjoyable… both very refreshing… both very satisfying… and both very good.  But gelato has a certain je nais sais quoi that ice cream does not. And before you blow up my inbox in protest, remember… it's just my opinion :)  And I definitely have nothing against ice cream – heck, I make it all the time :)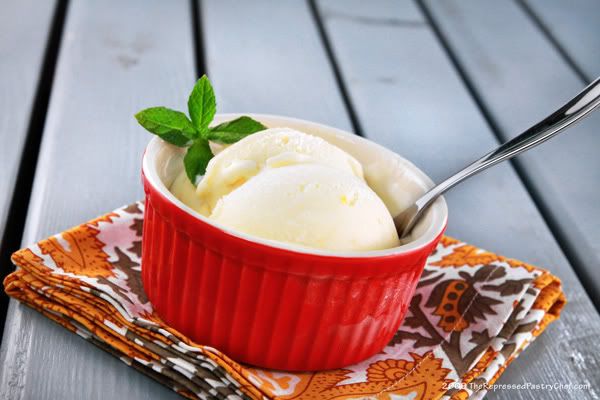 I'm sure you've noticed my blog has recently undergone a significant face lift.  The new look went live last weekend and we added a new Photo Gallery feature a few days ago.  The Photo Galley can be accessed from the navigation bar and if you haven't already done so, please take a look.  All of this was done by Tristan of Buzz Blog Designs – he was just great to work with and he's a very talented guy :)  I'm not sure if he's a fan of lemon in particular but he can certainly appreciate some good looking food.  While he was working on my site he'd often tell me how the pictures were making him hungry! LOL!  I think this time of year, gelato appeals to pretty much everyone… especially since it comes in such a wide variety of flavors.  Of course lemon is my personal favorite but when it comes to my family a variety of chocolate brings a smile to their faces :)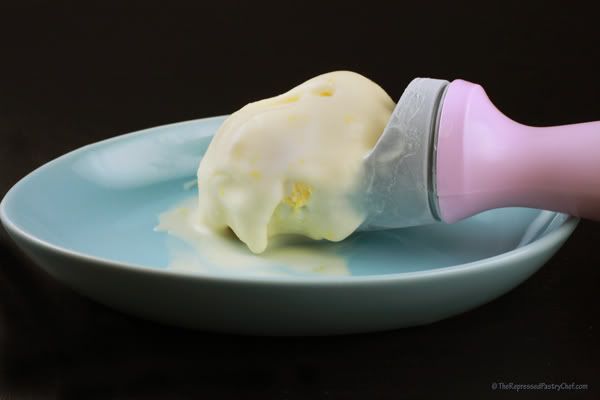 I tried to be quick with the photos to avoid the dreaded lemon-gelato-soup but as you can see above, it was a race to the finish!  In the end, however, I do believe I prevailed :)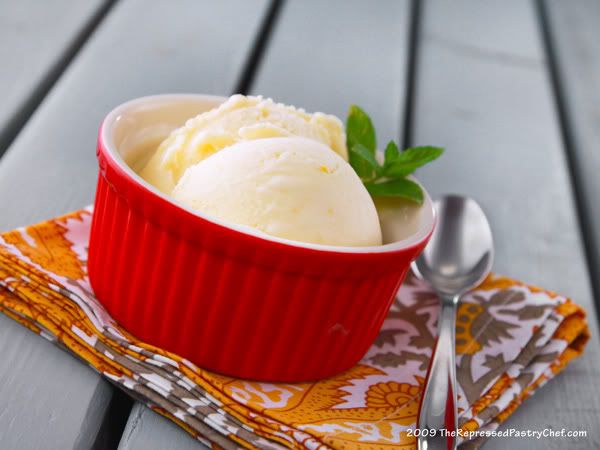 Make this recipe a keeper!

Lemon Gelato
Ingredients
1 1/2 cups Heavy Cream
1 1/2 cups Half-n-Half
1 1/2 cup granulated sugar
3/4 cup freshly lemon juice
1/2 teaspoon vanilla extract
1/2 teaspoon lemon extract
zest from 3 lemons
Method:
In a glass bowl, using a hand mixer combine creams and sugar until sugar dissolves. Add extracts, lemon juice and zest. Chill for at least 2 hours. Pour mixture into an ice cream maker and follow manufacturer's instructions.
If you like this, please

Have a delicious day!