Some of you may think of buttermilk biscuits as being "heavy" and "winter food" but not to me!  I love bread and enjoy eating any kind of bread any time of the year.  Just as my stomach has no alarm clock (pancakes for dinner? no problem!) it also has no calendar :)  Once you have a classic biscuit recipe in your repertoire and get the technique down pat… the add-ins are limited only by your imagination and palate. For this go round I added in freshly minced garlic, feta cheese and dried herbs… and these were a huge hit!
Recall a couple of weeks ago I posted this recipe for Buttermilk Biscuits.  It's my absolute hands-down favorite and I can't imagine trying any other one after my exhaustive trial-n-error filled search lead me to it.  If you're struggling with biscuit-making, I encourage you to check out that link because not only does it have a fantastic recipe for you, I also included some biscuit-making tips I picked up along the way.
Each month, we have a very small potluck at work… about 8-10 of us participate. The only "rule" is that unless you're providing the beverages, the item you bring has to be homemade.  Trust me it's not a strict rule… it's really  more of a guideline and it's fun because we have quite a variety of ethnic backgrounds.  Last month our theme was "Summertime Picnic" and the main attraction was baby-back ribs expertly made by my lemon-loving colleague George.  Let me tell you… George makes the best meats in town.  He loves to use his smoker and he loves to use his grill.  That love absolutely comes across in his food because I'm not lyin… George makes the best meats in town!  With his ribs last month he re-introduced me to Stubb's Spicy Bar-B-Q Sauce and I instantly remembered what I had been missing.  If you haven't tried Stubb's Bar-B-Q products, you really should.  Their sauces and rubs are outstanding!  You can find them in the grocery store :)
But… I digress…
… for last month's potluck it seemed folks had good-ol biscuits on the brain.  Not only was I requested to make a cheesy-garlic version of biscuits… I was more than happy to comply!!  Hey, what can I say… once you've got that classic recipe in your bag-o-tricks, you look forward to any biscuit-making occasion!  Typically I use a biscuit cutter but this time I tried the "drinking glass" method and used that as my cutter instead.  I think my biscuits actually came out taller!  I didn't follow a recipe for the amounts of minced garlic, feta cheese crumbles and dried herbs… in fact, I didn't even measure any of them.  Instead I just eye-balled it as I went along and used Italian Seasoning from the spice rack.  As they were baking the house smelled incredible and I was glad I made a few extra so that DH and I could perform the necessary  Quality Control taste-testing ;)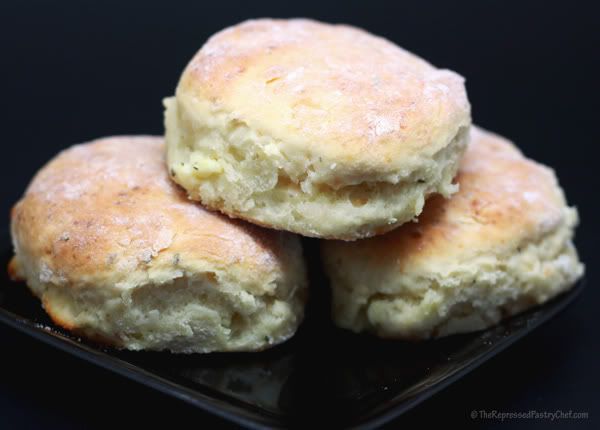 The biscuits received mega-raves from my co-workers and I came home empty handed.  Had I made more, they would've been consumed with nom-nom-nom noises as well.  If you're doing a picnic this holiday weekend, maybe bring along these biscuits.  No need to re-heat since these are so delicious they're fabulous at room temperature too. Whatever your plans – enjoy!
Have a delicious day!