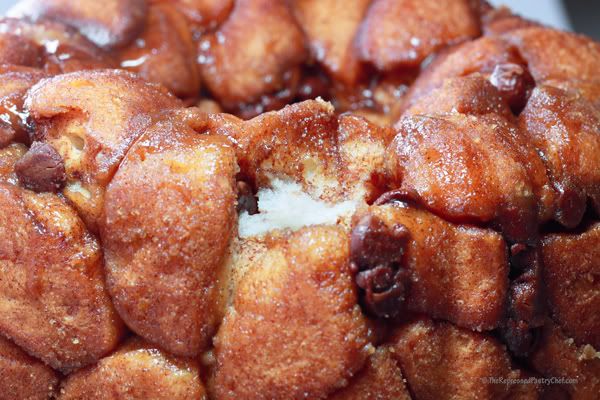 Monkey Bread… aka pull-apart bread… is easy to make and quite a delight to eat.  Just look at this picture – little fingers got to it and grabbed a piece before I could even snap a picture of it! Funny how those "little fingers" just happened to be mine ;)  But seriously, it's hard to resist this stuff.  Individual balls of yeasted dough, seductively bathed in a combination of melted butter, cinnamon and brown sugar then baked to deliciousness.  My version has chocolate chips tossed in among the dough balls cuz, well, yanno, the family considers anything "good" to be "great" when chocolate is added! LOL!  While Monkey Bread is indeed good, "Chocolate Studded Monkey Bread"?  We'll that's absatively great!
According to the Food Timeline, monkey bread is "is descended from traditional sweet, yeast rolls with centuries of history. Food historians tell us the first peoples to make sweet, buttery rolls with cinnamon were ancient Middle Eastern cooks. These recipes and spices traveled to Europe in the Middle Ages with crusaders, travellers, traders and explorers. Recipes varied according to culture and cuisine, but the concept remained stable. German kuchen, French galette, Pennsylvania Dutch sticky buns, and monkey bread all descended from these old recipes". The American Century Cookbook tells us Monkey Bread started showing up in women's magazines and community cookbooks back in the 1950's.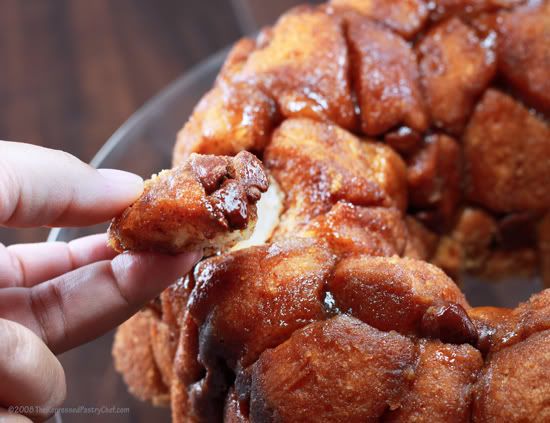 Though there are a variety of explanations for why it's actually called Monkey Bread, my favorite is "since monkeys gleefully pull at, well, everything, it makes sense that an audience-participation loaf should be called monkey bread".  And friends, lemme tell ya, this is definitely audience-participation food! LOL!  You don't slice-and-serve monkey bread… oh heck no… that'd be way too formal… and waaaaay too time consuming :) After this comes out of the oven, gets unmolded onto a platter and placed on a table… people gather around and gleefully pull at it, enjoying each and every bit until none-too-surprisingly there's nothing left!!  You simply just can't help yourself :)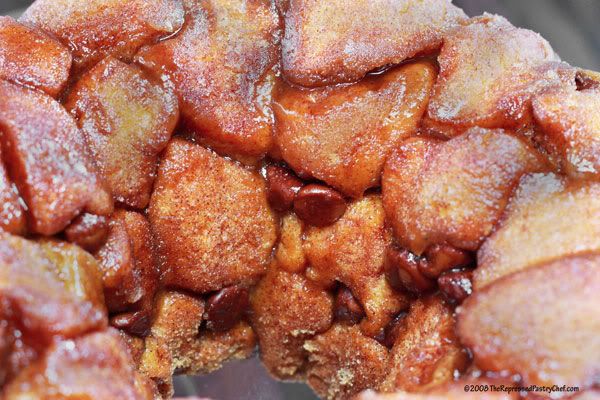 There's lots of variations and most people include pecans… tossing them into the bottom of the bundt or tube pan before adding the dough balls.  Some people will wrap each their dough-balls around a bit of cream cheese.  I decided to add in chocolate chips among the dough-balls as that was pretty darn easy… and added a nice little twist on things.
Chocolate Studded Monkey Bread
Ingredients
1/2 cup sugar
2 tsp ground cinnamon – divided use
1 cup brown sugar
1 cup chocolate chips
1/2 cup (1 stick) butter
2  16oz packages of buttermilk biscuits
Directions
Preheat oven to 350°F
Lightly coat a bundt pan with baking spray and set aside
In a ziplock-style bag combine sugar and 1 tsp cinnamon.
Separate all biscuits from the tube and cut into quarters.  Taking about 10 at a time,  drop into the cinnamon sugar mixture and coat thoroughly.  Remove and layer into the pan, randomly adding in chocolate chips, building rows until all pieces are layered.
In a sauce pan heat butter, brown sugar and remaining cinnamon over medium heat until butter is melted and the mixture is thoroughly combined. Pour over the dough ensuring all pieces are coated.
Bake for 30-40 minutes until puffy and golden brown.
Cool in pan for 10 minutes then invert onto a plate or platter and serve.
Have a delicious day!