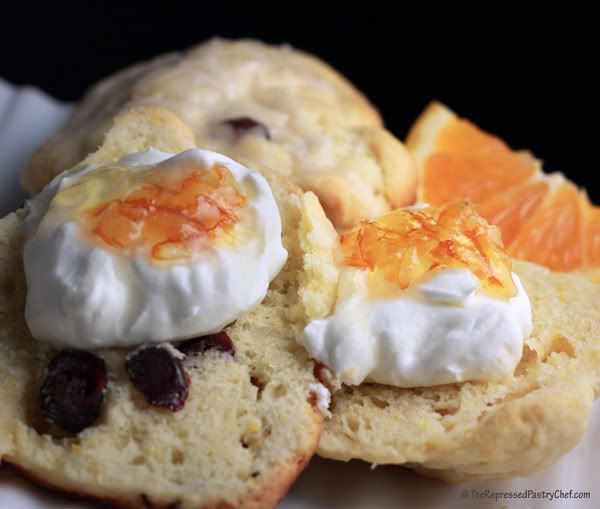 This month's Barefoot Bloggers Bonus Recipe Challenge was hosted by…….me :) Yay!!!!  I can't tell you how thrilling it was to find out I'd been chosen to host this since I just joined the Barefoot Bloggers last month.  Seeing as how I'm so into pastry, of course I had to choose something from the sugar food group.  I wanted to find something fun, quick, a little bit different… but still tasty too… and Ina's recipe for Cranberry Orange Scones was all that… and more!
I came to scones quite late in life.  In fact, although I'd heard of scones I didn't try them until 2008.  Yes… that's right… my life was scone-less until last year.  How did I survive it, you ask?  To be honest, I just don't know!  Once I tried them, there was no turning back.  It happened on a cruise ship while vacationing with my good friend Beth.   Each afternoon they served afternoon tea in the dining room and the offerings included scones… with cream and jam.  Was I hooked?  In a phrase… they had me at hello.
If you check the archives of my blog you'll find no less than 6 different scone recipes.  What can I say… I like scones and am always on the look out for another one.  Ina's recipe is a good one but I will agree with the other reviewers who said the orange flavor is very very subtle… and I still felt this way after I added a tablespoon of orange extract, 3 tablespoons of freshly squeezed orange juice and the zest of an entire orange to the batter.  Luckily the glaze made of confectioner's sugar and orange juice added some real flavor but it's a shame it had to come on top of the scones instead of throughout the the scones themselves.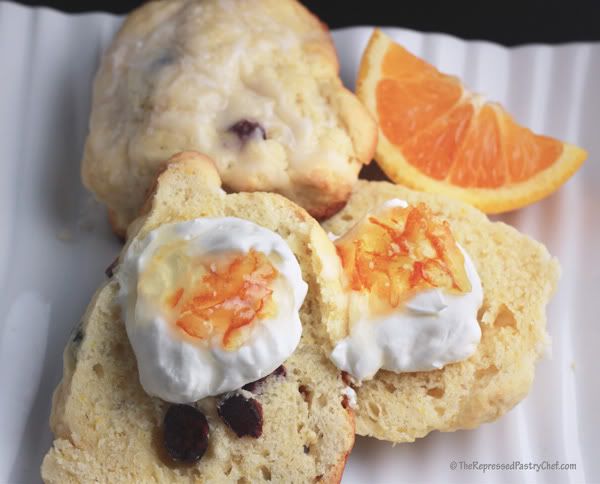 I can't deny it – these are very tasty and bake up very tender. I can definitely envision using the base recipe and swapping out the flavors depending on what I have on hand at the time.  They come together quickly and somewhat easily though I will admit I ended up dirtying the food processor, the stand mixer, a couple of mixing bowls and my butcher block cutting board. I don't know what happened in that kitchen because after I got the cookie sheets in the oven i turned around and thought "oh my holy stars, who made all this MESS… and who's going to clean it up???" LOL!  I'm probably the only one who used so many different tools because from the outset it sure didn't seem they were all necessary… but I kept pulling out more of them hahahaha.
Eh, call it freedom of expression if you will :)
But the cleanup was quick and the mess was worth it because all was forgotten once I took a bite.  Of course, I had to serve mine with whipped cream and a bit of orange marmalade ;) It was almost like being on that cruise ship with Beth again.  Yes, these are very, very good!
Ina Garten's Cranberry Orange Scones
Ingredients
nocoupons
4 cups plus 1/4 cup all-purpose flour
1/4 cup sugar, plus additional for sprinkling
2 tablespoons baking powder
2 teaspoons kosher salt
1 tablespoon grated orange zest
3/4 pound cold unsalted butter, diced
4 extra-large eggs, lightly beaten
1 cup cold heavy cream
1 cup dried cranberries
1 egg beaten with 2 tablespoons water or milk, for egg wash
1/2 cup confectioners' sugar, plus 2 tablespoons
4 teaspoons freshly squeezed orange juice
Directions
Preheat the oven to 400 degrees F.
In the bowl of an electric mixer fitted with a paddle attachment, mix 4 cups of flour, 1/4 cup sugar, the baking powder, salt and orange zest. Add the cold butter and mix at the lowest speed until the butter is the size of peas. Combine the eggs and heavy cream and, with the mixer on low speed, slowly pour into the flour and butter mixture. Mix until just blended. The dough will look lumpy! Combine the dried cranberries and 1/4 cup of flour, add to the dough, and mix on low speed until blended.
Dump the dough onto a well-floured surface and knead it into a ball. Flour your hands and a rolling pin and roll the dough 3/4-inch thick. You should see small bits of butter in the dough. Keep moving the dough on the floured board so it doesn't stick. Flour a 3-inch round plain or fluted cutter and cut circles of dough. Place the scones on a baking pan lined with parchment paper. Collect the scraps neatly, roll them out, and cut more circles.
Brush the tops of the scones with egg wash, sprinkle with sugar, and bake for 20 to 25 minutes, until the tops are browned and the insides are fully baked. The scones will be firm to the touch. Allow the scones to cool for 15 minutes and then whisk together the confectioners' sugar and orange juice, and drizzle over the scones.
Have a delicious day!