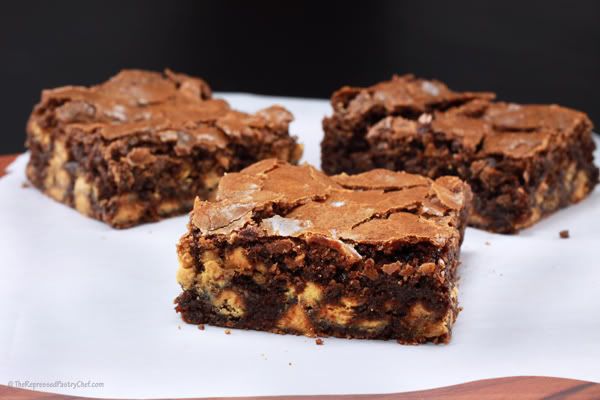 Quite often you have a lil nagging "want' for something sweet.  But you want it quickly… not in a few hours (hey, at least that's how I am! LOL). In our household, chocolate is King.  DH loves it.  DS loves it.  DD loves it.  But me?  Not so much. The other day we wanted "something" but I had little interest in doing the same old thing.  The final decision turned out to be brownies – but not just plain ol chocolate brownies, these are chocolate brownies with peanut butter chips.  Definitely nothin "plain ol"  about these :)
A colleague recently gifted me with a canister of Ghirardelli Sweet Ground Chocolate & Cocoa.  I bake all the time and take quite a bit to the office for my co-workers to enjoy.  I'm always appreciative of anything I receive in return… from thank-you's to compliments to backyard lemons to Ghirardelli Sweet Ground Chocolate and Cocoa :)  I wanted to use the chocolate for something special and thought the best way would be to make the brownie recipe that's on the wrapper.  I figured ya couldn't possibly go wrong using a Ghirardelli recipe, right?  But of course, never one to be satisfied with a recipe I felt compelled to adapt it.  Consider it a personality flaw if you will :)
In my thoughts of tinkering I contemplated adding mint which, in hindsight, was rather interesting.  You see,  unbeknownst to me at the time, though I did find out the next day, a blogger in another country had stolen some of my food photos, slapped on her copyright overtop of mine and posted them on her blog as if they were her creation.  The images were from 13 months prior (May 2008) and she put them on her blog this month. If there's one humongous sign of bad karma, disrespect and big ol brass ones among bloggers it's to take someone else's images and post them as your own. Shame… shame… shame!  Of course I contacted her immediately to inform her that I was aware of what she had done and asked her to remove my images from her site.  And followed up that contact with an email to her webhost.  It's pretty much a violation of anyone's Terms of Service / Terms of Use to post images that you do not own or do not have permission to post.  I received no response from her (bad karma, yet again!) but the images were removed within the next day or two.  In fact, the entire post was removed… yeah ok fine by me!  Her webhost company did repond back a few days later saying the content had been removed.  I realize I'm now totally and completely off track in this post but let this be a reminder to never ever ever never steal someone's content.  This is the third time that I've had to deal with something like this and it's just downright unpleasant!  So, I tell ya what… if you refrain from stealing my images and/or content, I'll refrain from asking you to take it down and contacting your webhost to inform them of your TOS/TOU violation.  Deal?  Deal :)
So anyway :)  Back to the brownies :)  I decided to add peanut butter chips!  Woohoo!  I'm just uber-adventurous somedays! LOL.  But the peanut butter taste really was a fabulous addition to the rich, chocolatey flavor of these brownies.  My family absolutely loved them… and my co-workers too.  I thought they were really good, but didn't wow me over the way Ina Garten's Outrageous Brownies did.  These brownies are perfect when you want something quick that comes together easily and doesn't make a mess of your entire kitchen.  One word of warning, however… an 8″ x 8″ pan does not make a whole lotta brownies so you might consider doubling this recipe and using a larger baking dish ;)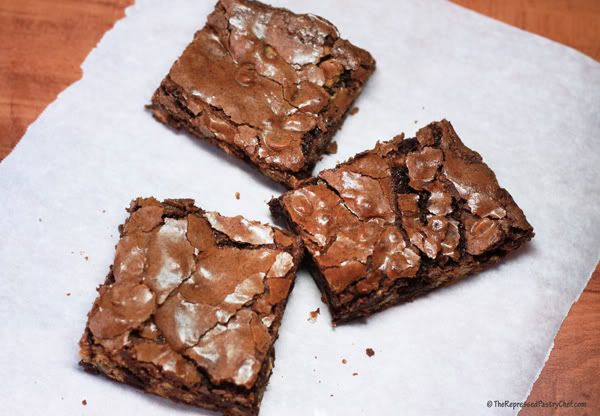 Peanut Butter Chip Brownies
Adapted from the Ghirardelli Brownie recipe
Ingredients
2 eggs
3/4 cup sugar
1 teaspoon vanilla
1/2 cup butter, melted
2/3 cup flour
1/4 teaspoon baking powder
1/4 teaspoon salt
1 cup peanut butter chips
Method
Grease a 8×8 inch baking pan and set aside.
Preheat oven to 400 degrees.
Sift the ground chocolate, flour, baking powder and salt.  Set aside
In a medium bowl combine the eggs, sugar and vanilla… mix well.  Add the melted butter and combine thoroughly.  Add the dry mixture to the egg mixture and incorporate fully.  Add in the peanut butter chips and mix to combine.  Spread into the prepared pan and bake for 20-25 minutes or until a toothpick inserted in the center comes out with just a few moist crumbs.  Cool completely then cut and serve.
Have a delicious day!