This week's host of Barefoot Bloggers was Eva of the blog I'm Boring and she chose Ina's recipe for Outrageous Brownies. If I've been blessed to have you as a reader of my blog for more than oh, uhm, five minutes, you will know that I'm not a big fan of chocolate.  As I've said, I don't dislike it, it just doesn't float my boat the way, say, lemon does.  Only on rare occasions does a chocolate dessert really do it for me.  One example is the Black Magic Cake that, in a single bite, changed my mind about chocolate cake.  But scoot over Black Magic Cake because Ina's Outrageous Brownies are deservedly taking a seat next to you on that vaunted pedestal because they are JUST. THAT. GOOD!!!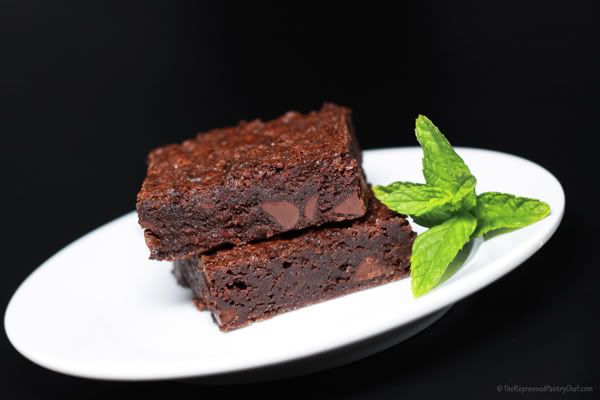 These brownies are the real deal… moist… dense… and fudgy.  Surprisingly they are not overly sweet but you'll definitely want a tall glass of cold milk with these!  At least I sure did :)  Yanno, that's one way to get my daily requirement of calcium! LOL!  The ingredient list is not for the faint of heart… butter… semi-sweet chocolate… unsweetened chocolate… eggs… instant coffee… vanilla… sugar… flour… baking powder… salt… and walnuts (which I chose to omit).  To me, the best part is the chocolate chips added to the batter just before pouring into the pan.  Yuuuu-uuum!  Seriously it's a whole lotta buttah and a whole lotta chocolate and a whole lotta eggs so these are by no means low-calorie.   But when you're in the mood for a good brownie… I mean a really really good brownie… calories are the last thing on your mind.  You won't splurge on these every day (though ya may wanna!) so just let go… ignore the calorie count… and enjoy!  It's worth it!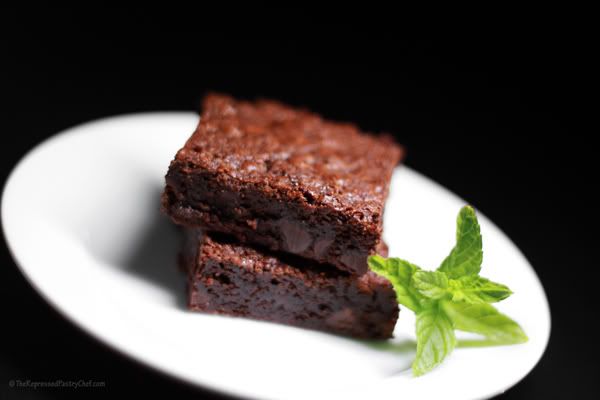 I've seen many people review this recipe say they'll never make any other brownie recipe again.  I was skeptical of such claims but having now made them, I totally get where they're coming from.  I will make these again and again and again!  I can see adding peanut butter chips or cappuccino chips or mint extract or a cheesecake topping or whatever else your creativity can dream up. I halved the recipe and baked it in a 13×9 pyrex pan lined with parchment.  All in all, these are FABULOUS brownies absolutely worth making.
If you'd like the recipe it can be found here on the FoodNetwork site.
Have a delicious day!