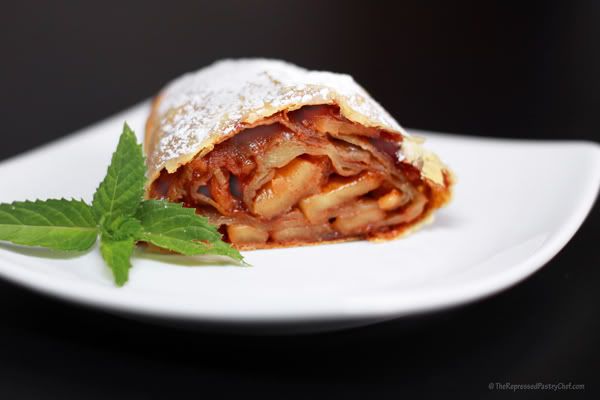 The end of yet another month is upon us and that means it's time for yet another Daring Bakers reveal :) The May Daring Bakers' challenge was hosted by Linda of make life sweeter! and Courtney of Coco Cooks. They chose Apple Strudel from the recipe book Kaffeehaus: Exquisite Desserts from the Classic Cafés of Vienna, Budapest and Prague by Rick Rodgers.
Making apple strudel is, more than anything, all about technique. The dough ingredients are straightforward… flour, salt, water, oil and cider vinegar. They come together easily and quickly but… and yanno there has to be a "but" in this… properly stretching the dough is rather crucial to success.  The recipe calls for the dough to be stretched so thin that you can read a letter through it. I'm not going to kid you… I used a rolling pin and quite honestly I didn't get the dough as thin as the recipe called for.  Was it opaque?  Sure thing!  Could you read the newspaper through?  I didn't try it but can confidently say not really.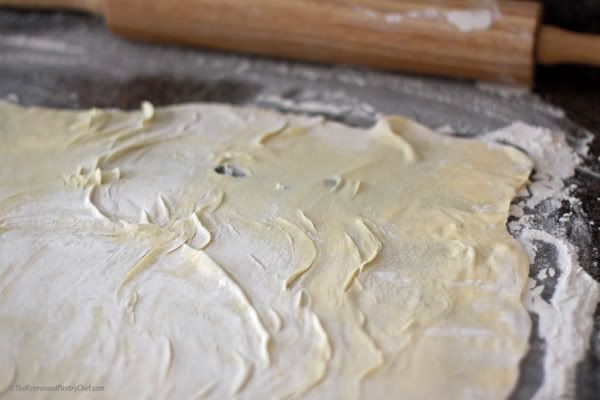 The filling provided for in the recipe is basically one of apples and raisins… with a few other things added in ;)   I used brown sugar instead of white and I used a lot more cinnamon than the recipe calls for.  Hey, what can I say… I like brown sugar and cinnamon with my baked apples!  I also chose to add a bit of freshly grated nutmeg just because I like it.  Instead of stretching the dough on a tablecloth, I just gave my granite counter a tremendous dousing of all purpose flour and used a rolling pin.  Worked out just fine for me and that could be because I didn't make the full recipe.
I can't deny it looks pretty darn horrible in this state.  Pretty. Darn. Horrible.  And absolutely not asthetically pleasing let along hunger inducing.  Thank goodness this ugly thing gets baked because in the naked state who'd go near it?  Blech!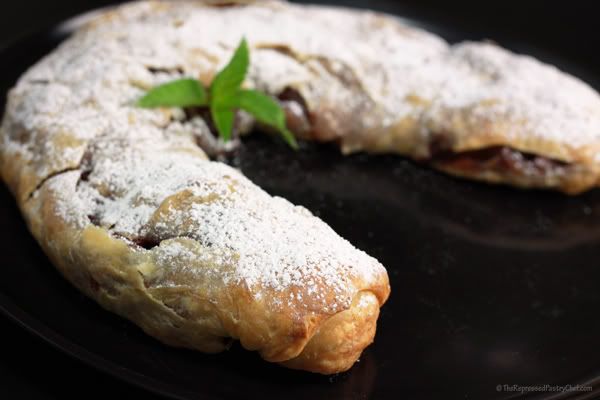 But after it's baked, and dusted with some powdered sugar, it tastes pretty good.  Nothing to write home about but certainly nothing to bin, either.  Even though I didn't stretch the dough anywhere near as thin as the recipe instructed, I still got a lot of breaks and tears in the dough when it was all baked up and done.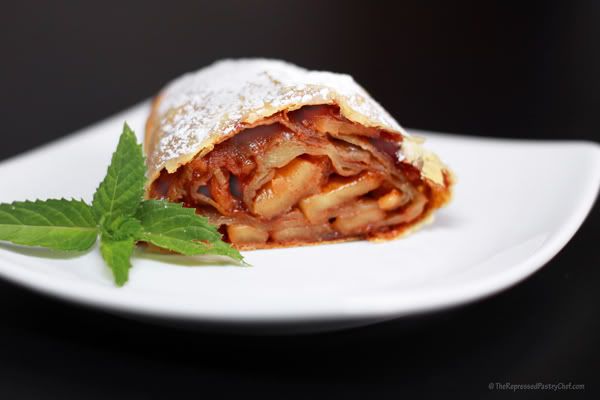 In the final analysis, would I make this again?  No, I don't think I would.  But in the spirit of the Daring Bakers I did give it The Ol College Try.  I think it would've been much better if the dough didn't have to be so thin.  My ends that I tucked all under… that was the best part to me so yeah I think the dough being thicker would've enhanced this for me.
If you'd like the recipe, please check out the blog of either Linda or Courtney.
Have a delicious day!