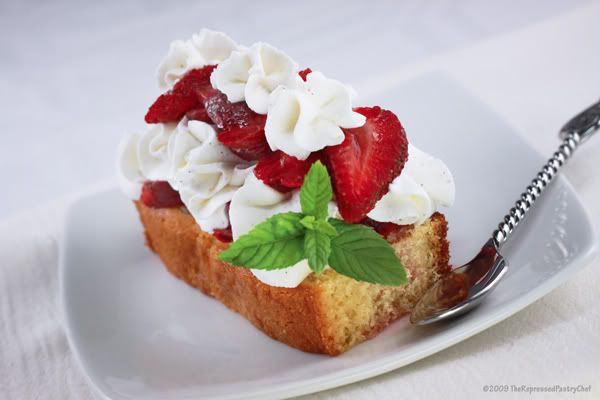 I can't remember a time when I didn't love strawberry shortcake.  Once summertime rolls around I can barely suppress the urge to buy strawberries every time I hit the market.  There's so many ways to make shortcake and it's such a quick and easy dessert that you can throw it together in no time at all.  You can buy pound cake (Sara Lee is my favorite brand) or angel-food cake cups but personally I love to make the cake myself.  I know… newsflash huh?  Last Christmas my mother came to visit and I whipped up a quick cake recipe, baked it in individual molds, topped them with defrosted sliced strawberries and freshly whipped cream and she proclaimed it to be the best dessert I'd ever made for her!  But now that it's strawberry season there's no need to use frozen berries… and the result is even better :)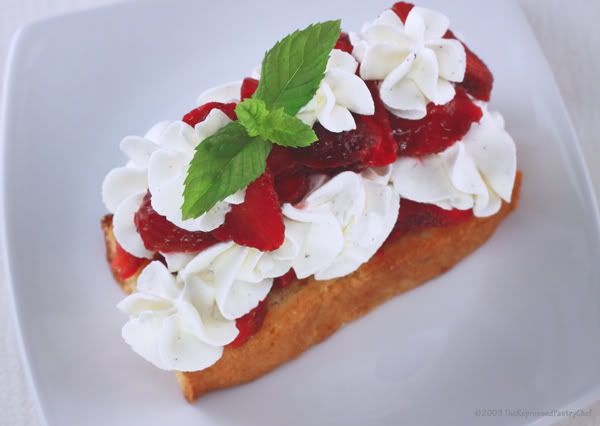 I'm gonna keep this post short and sweet… just like a really yummy strawberry shortcake should be.  A slice of cake… a layer of fresh berries sliced thin… some freshly whipped cream… more berries… and more whipped cream.  Oh yeah… really… this just whispers "sssssssssummer time".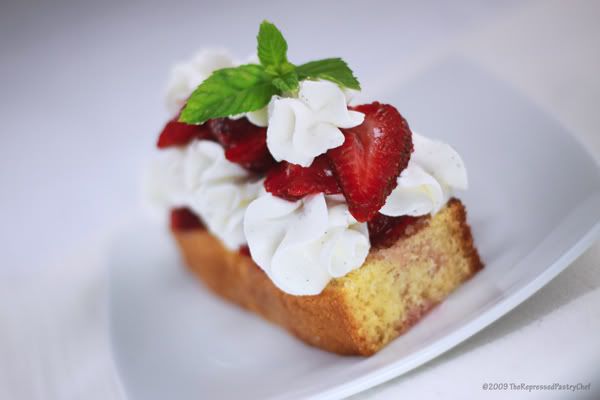 I like to take my fresh strawberries, pull off the stems, hull then slice them, toss in a couple teaspoons of vanilla sugar, cover and refrigerate for a couple hours.  The sugar enables the strawberries to release their juice and turns them from "yummy" to "absatively totally scrumptious" in just a matter of time.  For the whipped cream I just combine heavy or whipping cream with powdered sugar and either vanilla paste or the scraped innards of a vanilla bean… then use a hand mixer for the whipping.
Each of the elements is fabulous on its own… but combined?  Nirvana!  Tomorrow I'll be back with a new recipe I tried for poundcake.  If you can't wait, make this one I posted here.  Amazingly good!!!
Have a delicious day!