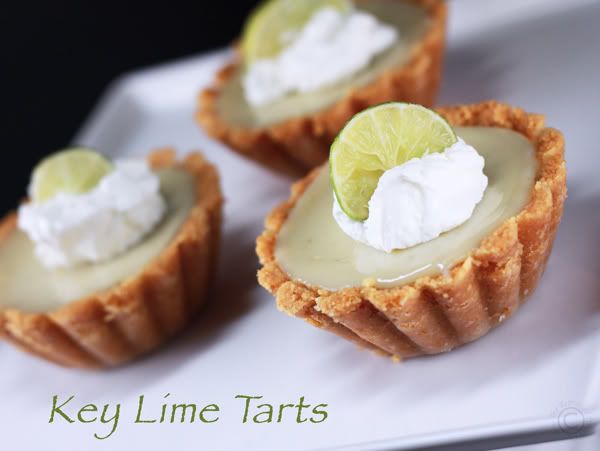 While it's taken a whole lot longer than I actually anticipated, I've seemingly gotten my new site up and running with only the smallest of minor glitches.  Honestly, I can't really complain and I'm pretty darned proud of myself :)  Self hosting.  Shared hosting.  Servers.  html.  css.  php.  htaccess.  It started off as being so very confusing but now I think I've collected all the dots… and I'm finally starting to connect them.  I certainly learned a lot along the way and in the end it's a good feeling knowing I completed a "DIY" project on my To Do list.  I made these key lime tarts when I was in the final stages of gettng the site ready and they were a terrific pick-me-up.  They're very tart… very good… and very very rewarding.  Now that we've hit those warm months of summer (hey, it was 102°F here today!) this is a wonderful hot-weather dessert.  Whether you make them as cute little 3″ tartletts or go for a full 9″ tart, no matter, you'll still get plenty of raves!
As soon as I saw the Key Lime post on Jamie's blog, I knew I'd have to make some variation of it. I've been on quite the citrus kick lately and was very tempted to make a full size tart but in the end decided to use some of the cute 3″ tartlette pans I have.   I love making mini sizes of pretty much everything… much easier on portion control :)  The recipe Jamie used looked so good that I made no variations at all… just changed up the pan size.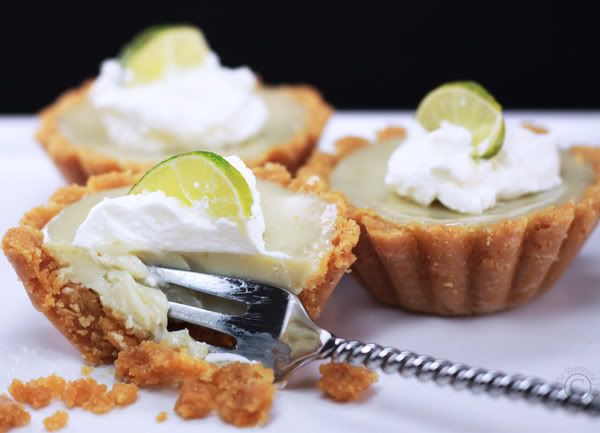 Key Lime Pie
Adapted from allrecipes
Ingredients
1 (9 inch) prepared graham cracker crust (store bought or use recipe below to make your own)
3 cups sweetened condensed milk
1/2 cup sour cream
1/2 cup fresh squeezed key lime juice
1/4 cup Nellie and Joe's Key Lime Juice
1 tablespoon grated lime zest
Method
Preheat oven to 350°F
In a medium bowl, combine condensed milk, sour cream, lime juice, and lime zest. Mix well and pour into graham cracker crust.
Bake in preheated oven for 5 to 8 minutes, until tiny pinhole bubbles burst on the surface of pie. DO NOT BROWN! (The 3″ tartlettes took about 12-15 minutes to form the bubbles) Chill thoroughly before serving. Garnish with lime slices and whipped cream if desired.
Graham Cracker Crust
Ingredients
1 1/2 cups crushed graham crackers
1/3 cup butter, melted and cooled
1/3 cup granulated sugar
Directions
Combine all ingredients and press into the bottom of pan.
Have a delicious day!