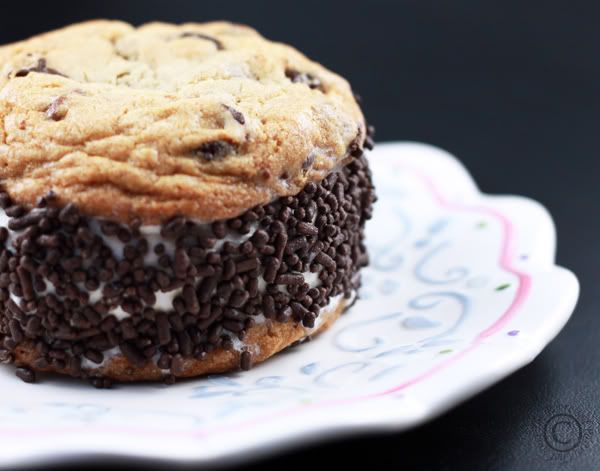 You tell me… which do I talk about more… lemons or the weather? Hmmm… I think it just might be a toss up! LOL! While we sadly don't get the four seasons here, we do get our share of heat (and probably a few other state's share of heat as well). I don't know about the weather where you live but here in Southern California we've just blown thru Spring and landed smack-dab in the middle of a summer-like heat-wave! Good grief it's too early in the year to deal with 100°F days and nights so warm you sleep on top of the sheets… with the fans running… but that's where we're finding ourselves these past few days. The forecasters are saying we won't be back down to normal high-70's until the end of next week so I've been thinking about… you guessed it… ice cream! A mound of cool, creamy ice-cream tucked between two incredibly thick and chewy chocolate chip cookies and coated with chocolate sprinkles. Oh most definitely you can beat the heat with this!
The backbone of any good ice cream sandwich is… the sandwich. It's the base… the foundation… the holder… the support. You can't have an ice cream sandwich without the sandwich part and chocolate chip cookies make a terrific sandwich part :) I've made a whole lotta chocolate chip cookies in my time and posted several different recipes here on my site. I definitely have my favorite but when I read Jamie's post about chocolate chip cookies and ice cream sandwiches, well, I just had to try that cookie recipe too. And I'm glad I did because these chocolate chip cookes are fantastic… and appropriately named!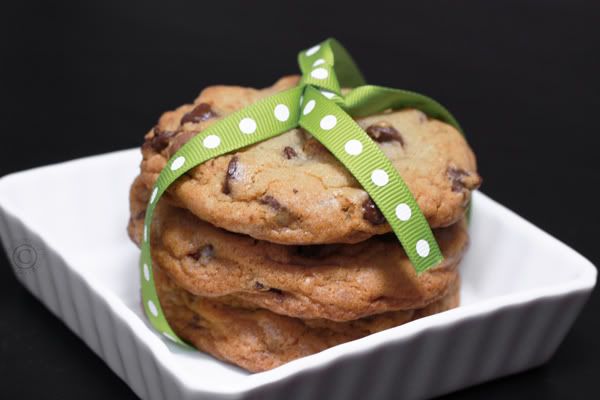 Big, Fat, Chewy Chocolate Chip Cookies
adapted from Allrecipes

Ingredients

2 cups all-purpose flour

1/2 teaspoon baking soda

1/2 teaspoon salt

3/4 cup unsalted butter, melted

1 cup packed brown sugar

1/2 cup white sugar

1 tablespoon vanilla extract

1 egg

1 egg yolk

1 cup milk chocolate chips


1 cup semisweet chocolate chips
Method

Sift together the flour, baking soda and salt; set aside.

In the bowl of a stand mixer fitted with the paddle attachment, cream together the melted butter, brown sugar and white sugar until well blended. Add the vanilla, egg, and egg yolk and mix until light and creamy. Mix in the sifted ingredients until just blended. Stir in the chocolate chips by hand using a wooden spoon.

Chill dough for at least two hours. (note… I baked two cookies immediately after the dough was made, not waiting for the 2hr chill time and did not notice a majorly-significant difference between them and the cookies made from the dough chilled for 2 hrs and the cookies made from the dough chilled overnight)

Preheat the oven to 325° F and grease or line a cookie sheet with Silpat or parchment paper.
Using a 1/4cup measuring cup, drop cookie dough onto the prepared cookie sheet ensuring the cookies are about 3″ apart. (note… I comfortably got 5 cookies on a sheet)

Bake for 17 to 18 minutes or until the edges are lightly browned.
Cool on cookie sheets for about 5 minutes before transferring to wire racks to cool completely… if you can wait that long because once you have a couple of cooled cookies, just take some softened ice cream and mound it on one cookie and top it with the other. At this point you can choose to freeze it for a while… if you have that kind of restraint ;-)
Have a delicious day!