In most parts of the country, spring has sprung, the weather is warming up and this means it's a great time to start thinking about ice cream.  Oh sure, you can go to the market and buy ice cream pretty much any time of year but there's just something really satisfying about making your own.  Lucky for me, I have the ice-cream maker attachment for my KitchenAid stand mixer… but that's just one option. Cuisinart makes a few good ones as do Hamilton Beach, Rival and Villa Ware.  You can even search the internet for instructions on making ice cream without a machine at all!  I've made ice cream more times than I can count.  DH loves coffee ice cream… DS loves mint chocolate chip ice cream… DD loves bubble gum ice cream… and me?  Well, heck, that's an absolute no brainer cuz if you know me as well as I think you do, you know I love LEMON ice cream :) :) :)
There's a basic recipe I always return to for making ice cream.  The ingredients are simple… cream, milk, sugar and flavoring… and I use this as my starting point any time I'm not making a cooked custard base.  Considering I'm insanely lazy, it's rare that I actually do start by making a cooked custard base. And usually I find there's no need because this simple base is rave-worthy good as it is.  To make it taste even richer (and more like custard) I add a couple of tablespoons of Jell-o brand Instant Pudding cheesecake flavor… the dry mix.  It's optional but I do find it gives the ice cream a richer flavor.
I'm sure you could easily adapt this recipe for pretty much any citrus fruit that strikes your fancy.  Orange, lime and grapefruit come to mind but you could also try other fruits as well.  This is quick, this is easy and this is absolutely delicious.  So refreshing, especially on a hot summer day!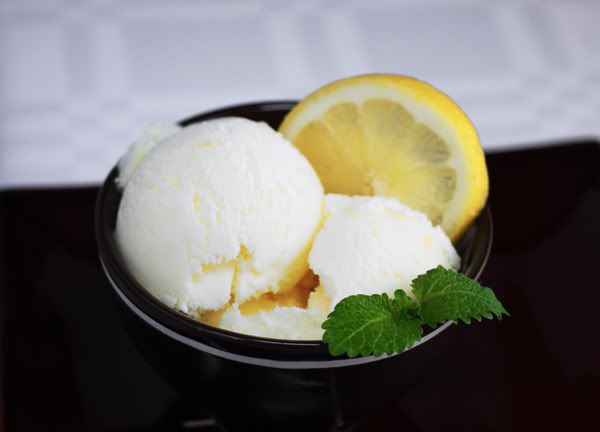 Em's Favorite Lemon Ice Cream
Ingredients
1 3/4 cups milk
2 cups heavy cream
1 cup granulated sugar
1/4 cup fresh lemon juice
zest of 2 large lemons
2 tablespoons Jell-o brand instant pudding – cheesecake flavor (dry/powder mix)
4 drops yellow food coloring (optional)
Method
In a large bowl combine the lemon zest and sugar.  Using your fingers, mix the zest and the sugar until moist and fragrant.  Add the milk, cream and cheesecake mix.  Using a wire wisk, combine well until the sugar is pretty much dissolved.  Add the food coloring and stir to combine.  Pour in the lemon juice – the mixture will immediately thicken – and wisk to combine well.  Pour immediately into your ice cream maker and freeze according to the manufacturer's instructions.  When done, pour into sealable container and freeze for at least two hours or until set.
Have a delicious day!