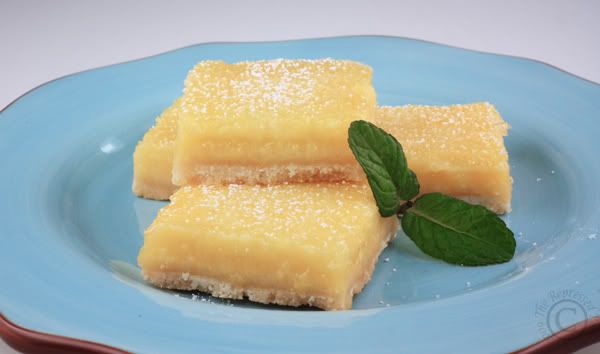 I'm sitting here tonight with DH and the kids coloring Easter eggs. They are having a grand time complaining away about how awful those pre-made dying kits are… but every year they wanna do it again! LOL! Normally I'd pretty much tune out the complaints but tonight I'm listening intently since it's keeping my mind OFF the lemon bars sitting in the kitchen… sorta ;-) Right now, it might take a 6.5magnitude earthquake to get my mind off these lemon bars because not only are they really good, the shortbread crust is nothing short of amazing!
This is another recipe my friend Janice turned me on to. She's a fellow foodie and makes some of the most amazing food around. I've learned that when Janice recommends a recipe… I listen! Recall she's the one who recommended I make the snickerdoodle muffins and they were faaaaaaaaabulous =) Well Janice knows just how much I love all things lemon so when she told me this recipe for lemon bars was something special, I simply had to make them!
The filling is good – very good – but not as tart as I like. Maybe something's wrong with my taste buds because I've yet to find a lemon bar that actually IS tart enough. The texture of the filling is just wonderful.  While the recipe calls for the addition of milk, I used heavy cream instead.  Terrific filling texture and good filling taste… but the shortbread crust? Oh-my-word… it's nothing short of amazing. The recipe indicates the crust will look crumbly – and most definitely it did. To the point where I was a bit fearful of how it would turn out. But I took a leap of faith and went for it… and I'm glad I did because this is, without a doubt, the absolute best, most amazing shortbread crust I've ever had. Ever. Did I mention I've never had one as good? ;-)
Janice found this recipe on the site Cookie Madness… and they found it on RecipeLink… and I'll provide it for you here :)  You'll notice it's called "Perfect Lemon Bars"… well I honestly can't go that far… but I will say they're really good lemon bars on the perfect shortbread crust!!
Click here for printable recipe
Perfect Lemon Bars
Recipe By : Susan Logozzo, Cook's Illustrated Magazine, May, 1998
Makes about two dozen 1-1/2 to 2-inch squares
Ingredients
–The Crust–
1 3/4 cups all-purpose flour
2/3 cup confectioners' sugar — plus extra to
decorate finished bars
1/4 cup cornstarch
3/4 teaspoon salt
12 tablespoons unsalted butter — (1 1/2 sticks) at
very cool room temperature, cut into
1-inch pieces, plus extra for greasing pan
–Lemon Filling–
4 large eggs — beaten lightly
1 1/3 cups granulated sugar
3 tablespoons all-purpose flour
2 teaspoons finely grated zest — (from two large
lemons)
2/3 cup fresh lemon juice — (from 3 to 4 large
lemons), strained
1/3 cup whole milk
1/8 teaspoon salt
Note:
The lemon filling must be added to a warm crust. The 30-minute chilling and 20-minute baking of the crust should allow plenty of time to prepare the filling. If not, make the filling first and stir to blend just before pouring it into the crust. Any leftover bars can be sealed in plastic wrap and refrigerated for up to two days.
Directions
1. For the crust: Adjust oven rack to middle position and heat oven to 350 degrees. Lightly butter a 13-by-9-inch baking dish and line with one sheet parchment or wax paper. Dot paper with butter, then lay second sheet crosswise over it.
2. Pulse flour, confectioners' sugar, cornstarch, and salt in food processor workbowl fitted with steel blade. Add butter and process to blend, 8 to 10 seconds, then pulse until mixture is pale yellow and resembles coarse meal, about three 1-second bursts. (To do this by hand, mix flour, confectioners' sugar, cornstarch, and salt in medium bowl. Freeze butter and grate it on large holes of box grater into flour mixture. Toss butter pieces to coat. Rub pieces between your fingers for a minute, until flour turns pale yellow and coarse.) Sprinkle mixture into lined pan and press firmly with fingers into even, 1/4-inch layer over entire pan bottom and about 1/2 inch up sides. Refrigerate for 30 minutes, then bake until golden brown, about 20 minutes.
3. For the filling: Meanwhile, whisk eggs, sugar, and flour in medium bowl, then stir in lemon juice, zest, milk, and salt to blend well.
4. To finish the bars: Reduce oven temperature to 325 degrees. Stir filling mixture to reblend; pour into warm crust. Bake until filling feels firm when touched lightly, about 20 minutes. Transfer pan to wire rack; cool to near room temperature, at least 30 minutes. Transfer to cutting board, fold paper down, and cut into serving-size bars, wiping knife or pizza cutter clean between cuts, as necessary. Sieve confectioners' sugar over bars, if desired.
Have a delicious day!

src="http://signatures.mylivesignature.com/54486/313/2F9B6626815A7DEDA50FC96
E870F3868.png" style="border: none; background: transparent;"/>