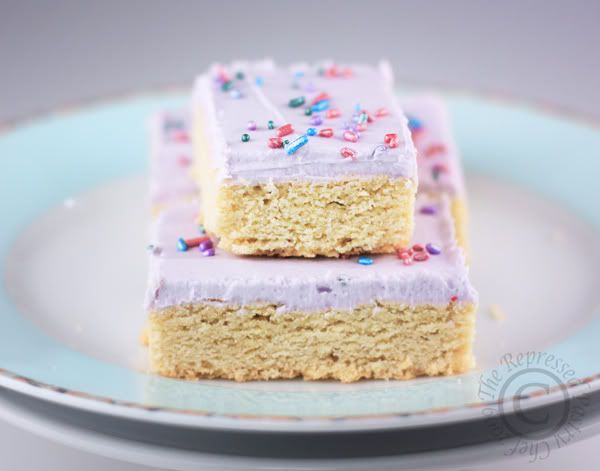 There are times when I can be incredibly lazy. I admit it. I'm not proud of it, mind you, but I'm aware of it and working to change it. But there are also times when my being lazy works out quite well :) Case in point, I love sugar cookies but would rather not spend the time and energy rolling out the dough, cutting out the shapes, waiting for them to cool, making the icing and then decorating them. That takes waaaaaaay too long and it's waaaaaaay to easy for me to give up and eat them long before the decorating even starts! LOL. So when I came across the recipe for sugar cookie bars, well, it was like a timely solution to my old nemesis… laziness :)
These are so easy it's a shame I didn't know about them sooner. Or wait… maybe that's a good thing ;-) I don't know who "invented" this but I'd like to say a hearty THANK YOU!! All you have to do is make the sugar cookie dough (recipe coming up), pat it into a baking pan, bake, cool and frost. The only thing simpler is eating them after someone else has made them!
Sugar Cookie Bars
1 cup butter; room temp.
2 cups sugar
4 eggs
2 tsp vanilla
5 cups flour
1 tsp salt
1/2 tsp soda
Cream butter and sugar until fluffy. Add eggs, one at a time, mixing after each egg. Add vanilla & mix well. In a separate bowl combine flour, salt & soda & stir with a whisk to combine. Add to wet mixture and mix just until combined. Spread on a greased baking sheet (use a 13 x 18 pan). Bake at 375 degrees for 10-15 min, until light golden brown or until a toothpick comes out clean. Cool completely and frost.
Frosting
1/2 cup butter; room temp
1/2 cup shortening
1 tsp vanilla
pinch of salt
4 cups powdered sugar
5 Tbsp milk
food coloring (if desired)
For frosting combine butter and shortening until smooth and creamy. Add vanilla and salt. Add powdered sugar in 1-2 cup increments until combined, then add milk & mix until smooth and spreading consistency. Spread over cooled cookie, then cut into bars.
Next time you have a hankerin for homemade cookies, but would rather not do lots of work, then definitely, definitely make these.  I love them!  My husband loves them!  The kids love them!  My co-workers love them!  In fact, I don't know of anyone who doesn't love them – they are fabulous!!!
Have a delicious day!

src="http://signatures.mylivesignature.com/54486/313/2F9B6626815A7DEDA50FC96
E870F3868.png" style="border: none; background: transparent;"/>