You're probably familiar with Gooey Butter Cake – I think Paula Deen had quite a bit to do with making it so widely known. Lately it's been all the rage on one of the food-related sites that I frequent and I felt completely like an outsider having never tried it. That was easily remedied since I could find several recipes and make it myself :) Not to be satisfied with the regular version, I added some fruit and turned a classic into something extra special!!
I actually made this twice over the course of three days. The first time I followed a Paula Deen recipe and managed to turn it into a complete disaster. All it took was overlooking one single word and I was doomed. You see, the recipe calls for a can of crushed pineapple… a can of drained crushed pineapple but I overlooked that word. With all the other ingredients in the bowl of my stand mixer I added the can of crushed pineapple… juice and all… and only when the consistency was not right did I realize the error of my ways. Instead of creamy topping, I had a lumpy, soupy mess :( Not one to throw in the towel (and being unwilling to flat out waste the money and ingredients already invested) I tried to salvage it as best as possible and still bake it. What I ended up with was something like an overbaked cake crust with a layer of pineapple cheesecake on top.
I'll admit it turned out quite tasty… but not how this dessert is supposed to be. And I was not about to be defeated!!
Two days later, I started over again. I decided to pretty much abandon the Paula Deen recipe and try one from All Recipes instead. In the end, I combined what I felt was the best of each recipe into something that turned out to be truly fabulous! A layer of yellow cake on the bottom topped with a layer of gooey, buttery, pineapple-cream-cheesey deliciousness. Ooooooh yeah! This is sweet, rich and not for the faint of heart but it's goooooood! Especially with a tall glass of ice cold milk (or cup of strong coffee I'm told).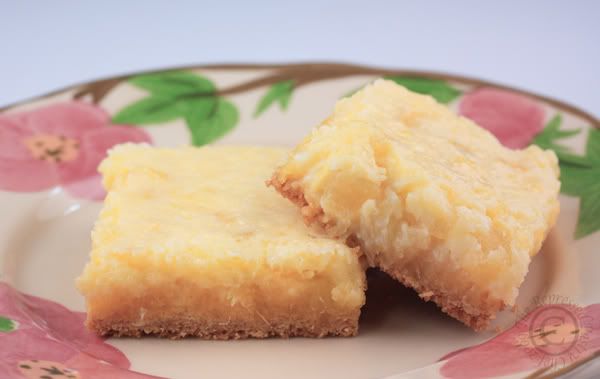 Pineapple Gooey Butter Cake
Adapted from All Recipes and Paula Deen
Ingredients
1 (18.25 ounce) package yellow cake mix
1/2 cup butter, melted
4 eggs
2 teaspoons vanilla extract – divided use
1 (8 ounce) package cream cheese – softened
3 cups confectioners' sugar
1 (20 ounce) can crushed pineapple – drained
Method
Preheat oven to 350°F
In a large bowl combine cake mix, melted butter, 1 teaspoon of the vanilla extract and 2 eggs. Mix well either with a spoon or using a hand mixer. Pat into a 9 X 13 pan lightly coated with baking spray.
In the bowl of a stand mixer fitted with paddle attachment combine the cream cheese, 2 eggs, and remaining vanilla extract. Add in the confectioner's sugar one cup at a time until full incorporated. Add the drained, crushed pineapple and combine well. Pour over cake layer.
Bake for 40 to 45 minutes. Remove from oven and cool on wire rack.
Because I was taking this to work and sharing it with my colleagues, I cut it into bars for easy serving.  It might have been smart for me to line the baking pan with aluminum foil (leaving "overhang handles" on each end) spray the foil with baking spray and then bake.  Sadly I did not so I had to cut the bars in the pan since with the gooey topping it's not like you can invert this on a wire rack! LOL.
Have a delicious day!

src="http://signatures.mylivesignature.com/54486/313/2F9B6626815A7DEDA50FC96
E870F3868.png" style="border: none; background: transparent;"/>