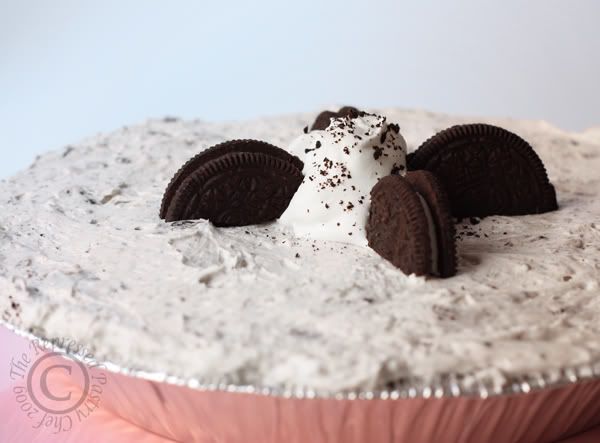 Today started off as a rather normal Saturday morning. Nothing overly interesting going on… DH running errands for the household… me taking care of some items for our Home Owner's Association… the kids playing games. Then around 1pm my quiet easy-going Saturday changed. I suddenly realized today is March 14th. Yes… 3/14… which is 3.14… that' s Pi… and suddenly it hit me…. OH NO!!! It's PIE DAY and I didn't make a pie… I gotta make a pie… and it's gotta be a quick one since I've already lost the whole morning! I asked the kids and DH what kind of pie they wanted and of course they sang out "Chocolate" in perfect unison as if it'd been rehearsed or something! Sure, they may have wanted chocolate pie but I wanted something more interesting… but still something I knew they'd like. The solution… a super easy Oreo Pie! If you're a fan of Oreo cookies, this pie is tailor-made for you :)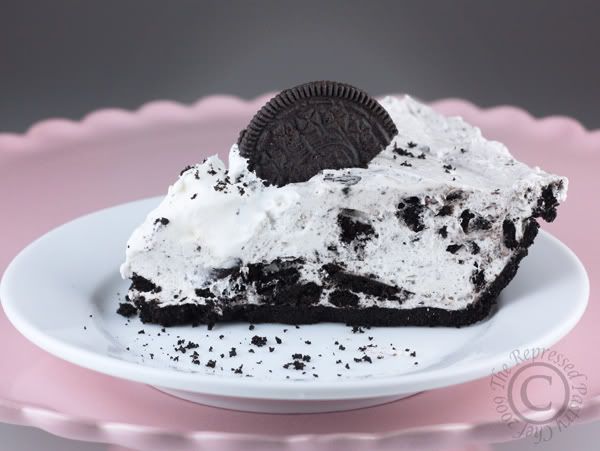 Honestly this is super easy. Just a mere 5 ingredients… Oreo pie crust, Oreo cookies, cream cheese, whipped cream and sugar. I think it took me about 20 minutes… including clean up! And when it was served… well… it made me look like a supastah!
Oreo Pie
Adapted from Kraft
Ingredients
1 Oreo Pie Crust
12 Oreo cookies
8oz Cream Cheese, softened
1/3 cup sugar
2 cups whipped cream
Directions
In a small bowl, smash up 12 of the Oreo cookies… Set aside.
In a medium bowl using a hand mixer, combine the cream cheese and sugar… Beat until light and fluffy.
Add in the whipped cream and the smashed up Oreo cookies… Then use a rubber spatula and combine gently until well blended and the cookies are distributed throughout.
Spoon into the Oreo pie crust and refrigerate about 2 hours or until firm.
Optional garnish… Cut 4 Oreo cookies in half and place the halves, cut side down, around a dollop of whipped cream placed in the center and dusted with Oreo cookie crumbs
Note: the 2 cups of whipped cream is not the same as whipping cream. For this recipe the cream should be whipped. Use either freshly whipped cream or Reddi-Whip or Cool Whip or similar… But the cream is to be whipped, not liquid.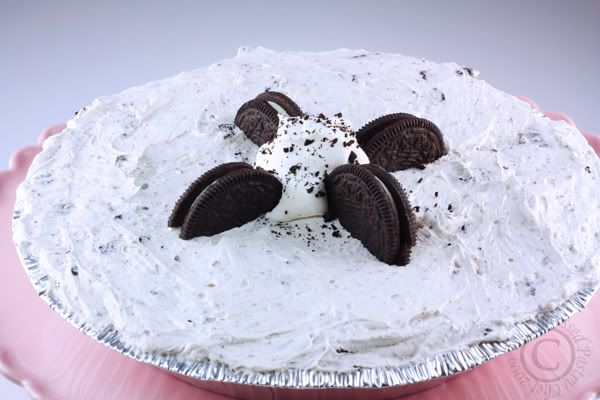 I've never cared for Oreos so this dessert was easy for me to resist. I can tell you my husband and kids absolutely loved it and, no lie, they licked their plates clean! That's always a compliment :) As good as it is right now in winter, I can imagine this would be fantastic as a summertime dessert. Either way, if you like Oreos, you gotta make it :)
Have a delicious (Pi) day!
src="http://signatures.mylivesignature.com/54486/313/2F9B6626815A7DEDA50FC96
E870F3868.png" style="border: none; background: transparent;"/>