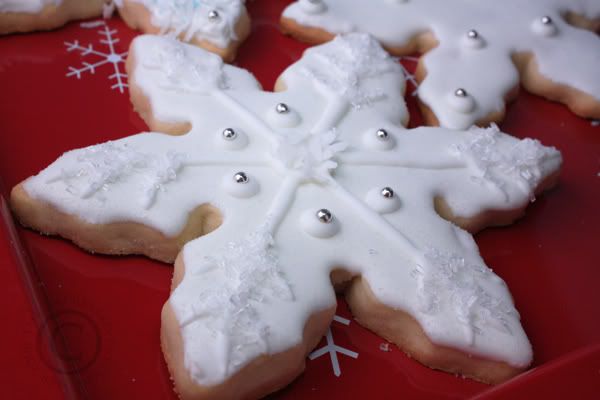 I've been baking a lot of sugar cookies the past week… and this baby above is my favorite. Can't quite put my finger on it but this cookie just appeals to me.  For years I thought baking sugar cut-out cookies couldn't be all that difficult since it seemed like everyone did it.  Well, yeah, I was wrong!  I tried making them last year. I was a total novice having just received my very first KitchenAid stand mixer and pretty much zero, zip, zilch, nada in the way of experience baking anything!!  And, oh the results absolutely showed! LOL.  But the cookies still tasted good and my neighbors were more than happy to receive cookie gift baskets :)  This year I thought I'd kick it up a notch and try making sugar cut-out and royal icing.  Definitely wasn't anywhere near as easy as I'd hoped it would be but I'm getting better.  If I keep practicing, I might just be happy with the results!
The recipe I used for the cookies can be found below and I must say I am VERY pleased with it!  Even after a week, uncovered, totally sitting out on my dining room table the cookies are still soft and chewy… not hard and crumbly like some others I've tried.  The only change I made to the recipe was increasing the amount of extract (3 tsp total) and using a combination of both vanilla extract and lemon extract in a 2:1 ratio (e.g. 2tsp vanilla and 1tsp lemon).  As for the method, I rolled out my dough and instead of sticking it in the fridge for 30 minutes I stuck it in the freezer for 20 minutes.  I pressed the cutter into the rolled out dough and when removed, the cutter still had the cookie shape inside of it.  I then used my finger to push out the cookie onto a silpat lined cookie sheet.  The number of cookies you get will totally depend on the size of the cutter used.  For these snowflake cookies, the cutter itself is about 5″ in diameter which is a lot bigger than the standard cookie cutter.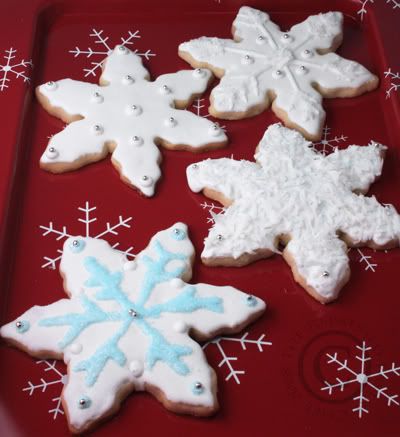 For the icing, I used a recipe for Royal Icing that I found here and am exceptionally pleased with it.  I added a touch of both vanilla and almond extracts for flavoring and increased the amount of cream of tartar to 1/4tsp per egg white.  The cream of tartar is critical to the success of royal icing… if you don't have it, go out and get it. It's the cream of tartar that makes the icing smoooooooth and not at all gritty. That's my experience and others will disagree but I can say with confidence that whenever I've tried to make royal icing w/o using cream of tartar, I regret it.  And I don't bother with meringue powder… I use raw egg whites and have never had a problem. Again, just my experience :)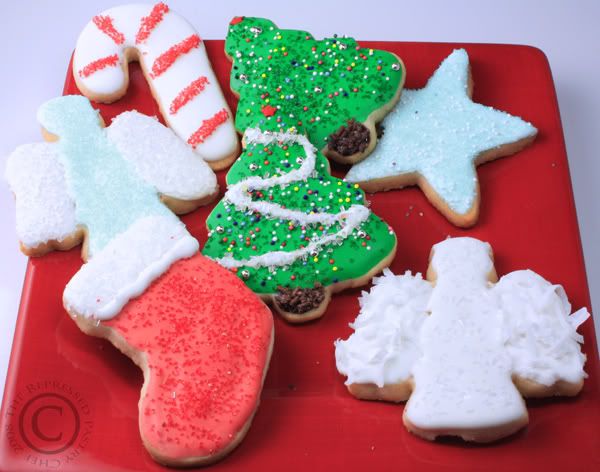 Of course I couldn't stop with just making snowflakes… I used a few Christmas cookie cutters I got in a really really really cheap set last year.  You just can't go wrong with Christmas tree, angel, star, candy cane and stocking shapes :)  I finally upgraded and bought a decent set of Wilton Christmas Cookie Cutters since I know I'll be baking and decorating a lot more sugar cookies over the next week!
DROP IN AND DECORATE SUGAR COOKIES
From ninecooks.com
Makes 16-20 large cookies; see note below for making multiple batches.
3-1/4 cups unbleached all-purpose flour
1-1/2 tsp baking powder
1/2 tsp salt
1-1/4 cups best quality unsalted butter, softened
1 cup sugar
1 large egg
1 Tbsp milk
2-1/2 tsp best quality pure vanilla extract
Preheat oven to 375°F. Line a couple of baking sheets with a Silpat or parchment paper. In a large bowl, stir together flour, baking powder and salt. In another large bowl or the bowl of a heavy-duty stand mixer, beat together the butter and sugar, until fluffy. Add egg, milk and vanilla, and continue to beat until well blended and smooth. Beat flour mixture into the butter mixture until smooth. Divide dough in half. Place one half on a sheet of parchment paper or wax paper; cover with another sheet and roll to 1/4 inch. Repeat with second half of dough. Refrigerate dough for at least 30 minutes, or up to a couple of days (or, if making far in advance, you can freeze at this point. Wrap sheets tightly in plastic wrap). Remove one sheet from the refrigerator; peel off the top wax paper, then replace paper and invert dough. Peel off and discard what is now the top sheet of paper, and cut out the cookies. (cookies will spread, so do not place too close together on the baking sheet). Reroll scraps, refrigerating if necessary to firm the dough. Bake for 6-9 minutes, or until just lightly colored on top and slightly darker at the edges. Rotate sheets halfway through for even browning. Remove pans from oven and let cookies cool 2-3 minutes. Then remove cookies to a rack and let cool completely. (At this point, the cookies can be stored in an airtight container for up to two weeks, in layers separated by parchment or wax paper.) After the cookies are completely cooled, decorate with Royal Icing. Place the decorated cookies on a tray and leave out overnight, uncovered, to harden. The next morning, package in food-safe cellophane bags or cookie tins.
*Note: to make multiple batches, do NOT double the recipe. It's hard to control proportions. Instead, make multiples of the original recipe, one batch at a time, for guaranteed success!
*Another note: Rolled sheets of cookie dough can be made ahead and frozen (or, if you're going to use them within a day or two, you can stack the rolled sheets of dough on a cookie sheet in the refrigerator). Let defrost until dough is pliable enough to be cut without breaking cookies, but not necessarily completely defrosted.
Hope you're having a great week – definitely have a delicious day :)