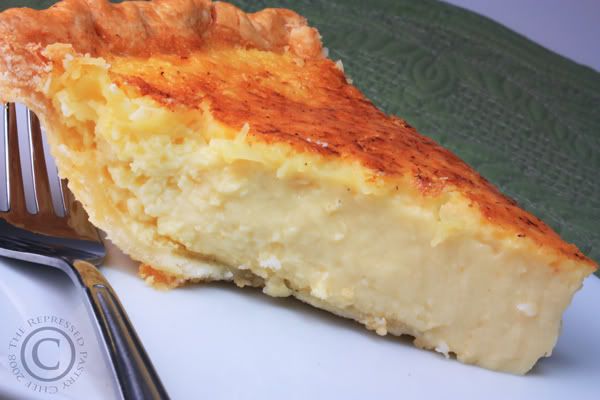 While this pie certainly won't win a prize for Ms. Photogenic, she most surely could take the prize for Best-in-Class. This was my first attempt at making custard pie and I just had a hankerin for coconut so I turned it into Coconut Custard Pie. If you're not a coconut fan, just leave it out and make this a custard pie. But either way, you just gotta make it because Holy Mother this is one of the three best pies I've made in my entire life (and I'll be blogging the other two real soon!!!)
Prior to March of this year, I would've said I truly disliked coconut. Then something just changed and I started to not dislike it. After a few months I realized that I was looking for ways to incorporate coconut into my baking and cooking. I made chicken dishes with coconut… and cakes with coconut, loving both equally. I can't figure out what exactly happened but now I actually do like coconut a great deal. The texture used to really turn me off but no longer is that the case. Eh, go figure ;-)
About a week ago I started planning out our Thanksgiving menu and decided on Pumpkin Cheesecake for the dessert (yes, I will most definitely be blogging that fabulous creation in the near future!). Then it hit me that no one in the family really is into pumpkin… except me… so I made the chocolate "turkey" cupcakes that I posted yesterday. I thought it was all covered :) Then the night before Thanksgiving I started experiencing pangs of gilt that I hadn't really made a "nice dessert" for Thanksgiving Dinner. I mean, sure, the "turkey" cupcakes are cute but they're not "nice dessert" worthy.
Out of literally nowhere I came up with the idea of making custard pie! I just love custard pie even though I'd never made one I figured it couldn't be that hard. And then my coconut craving kicked in and I decided on coconut custard pie. Oooooh! I was giddy with excitement… until… until I realized no one in the family would eat it… except me. ARGH! But I went ahead with the idea and made it anyway LOL! LOL! LOL! But don't worry… I decided to make a French Silk Chocolate Pie which I knew the family would love and boy was I right. I'll most assuredly be blogging about that one very soon!!! But today is Coconut Custard Pie… an incredibly good, thoroughly satisfying Coconut Custard Pie that I do believe is among the three best pies I've ever made. And that, my friends, is one helluvan endorsement for my first time out of the gate! If you're not into coconut then don't worry, just omit it and make this as a custard pie. It'll be JUST as good – really it will!!! I'm sure I could've made this with coconut milk for more flavor but I didn't think of it until later. Regardless, this pie turned out fantastic and I hope you like it too :)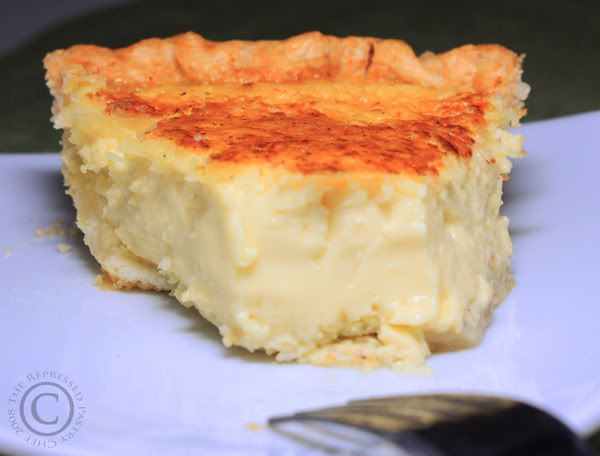 Coconut Custard Pie
Ingredients

1 (9 inch) unbaked pie crust (not frozen, just unbaked)
3 eggs, beaten
3/4 cup granulated sugar
1/4 teaspoon kosher salt
1 tablespoon vanilla extract
1 egg separated
1 1/2 cups heavy cream
1 cup milk
1/2 cup shredded coconut
1/2 teaspoon freshly grated nutmeg
3 drops yellow food coloring (optional)
Method

Preheat oven to 400°F
Separate one egg… white in one small bowl, yolk in a separate small bowl.
In a medium saucepan, combine the milk and heavy cream. Heat until just starting to boil – be sure to watch it because it will go from barely simmering to heavy boiling rather quickly. Remove from heat and set aside.
In a large bowl, using a hand mixer, combine the one egg yolk, the three whole eggs (beaten), sugar, salt and vanilla. Mix thoroughly.
Slowly… slowly add in the hot milk mixture continuing to beat continuously so that the egg mixture already in the bowl does not "cook". Once the hot milk mixture is completely blended in, add in the coconut and mix well. Add in the food coloring if you'd like a more yellow-colored pie.
Place the unbaked pie crust on a cookie sheet lined with a silicon mat. Brush the insides (bottom, sides and top) with the egg white to help prevent the crust from getting soggy. Carefully pour the custard mixture into the pie crust.
Bake for 35 minutes then carefully… carefully place strips of aluminum foil over the exposed crust to prevent it from getting too dark (depending on your oven you may have to do this earlier than 35 minutes into baking – just keep an eye on it and protect the crust when it's to your desired shade of brown). Reduce the oven temp to 250°F, return pie to oven and bake for about another 20 minutes or until the filling is just about set… Not so jiggly that it's like liquid but also not so totally firm that it's solid.
Remove from oven and cool on rack. When pie is just about room temperature place in refrigerator and chill for at least 2 hours before serving.
Have a delicious day!
src="http://signatures.mylivesignature.com/54486/313/2F9B6626815A7DEDA50FC96
E870F3868.png" style="border: none; background: transparent;"/>