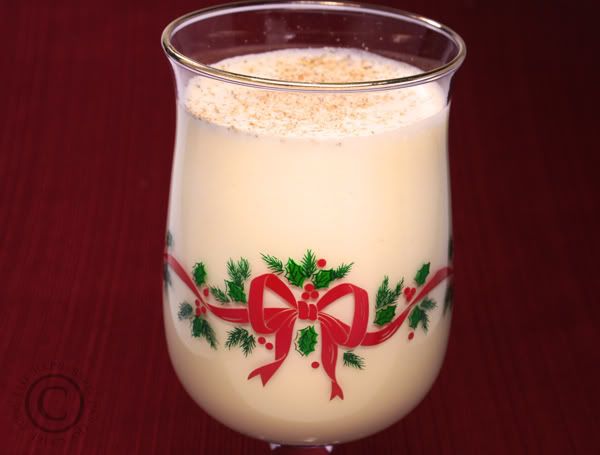 Now that Thanksgiving is behind us, it's officially "The Christmas Season" in our household. If it were up to DH, he'd have all the Christmas decorations up around mid-November… at the latest! But I believe each holiday should have it's own turn so he (im)patiently waits until the day after Thanksgiving to put up the Christmas decorations :) And as I've mentioned before, he and the kids absolutely love egg nog so I'm test driving a few recipes to see which one is our favorite. I've previously posted my neighbor Alan's Amazing Egg Nog… which for some of you was a big hit at Thanksgiving. Today I bring you one that's mine-mine-mine! This really is an easy-easy egg nog and the taste is just a big OH YUM!!!
For someone who previously really did not like egg nog, I'm shocked to think about the calories I've recently consumed from drinking it. Really, this stuff is chocked full of calories my derriere surely does not need (not to mention neither do my hips, thighs or upper arms). But it's not like you drink it every day… all year long. No, it's a special treat just for the holidays. And filling? Boy is egg nog filling! A single cup and it's like having eaten a full Thanksgiving dinner all over again! This recipe is really easy, comes together in a flash and is totally virgin… feel free to add the liquor of your choice (Brandy is my personal favorite but hey, do whatcha like!!)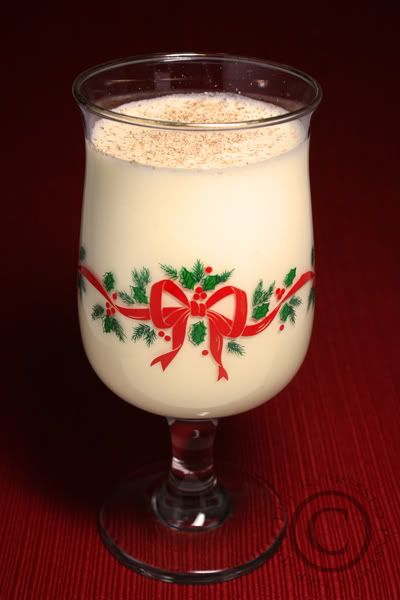 Em's Easy Easy Egg Nog
Ingredients
5 eggs, beaten
6 tablespoons sugar
2 3/4 cups heavy cream
2 cups milk
1 tablespoon vanilla extract
ground nutmeg (optional)
yellow food coloring (optional)
Directions
In a large bowl, beat the eggs using a stand or hand mixer. Add the sugar and beat well. Add the cream and mix very well for about 2-3 minutes. This will help thicken the end result. Add the milk and vanilla extract and blend well (using clear vanilla will maintain the yellow color – if your vanilla extract is brown you may decide to add a few drops of yellow food coloring to enhance the appearance but this is totally optional). Serve chilled and dust with nutmeg. Yields approximately 8 1-cup servings.
I gotta tell ya, this recipe was actually preferred by my family… but hey, the Christmas season is young and I have other egg nog recipes to try as well :)
Have a delicious day!
src="http://signatures.mylivesignature.com/54486/313/2F9B6626815A7DEDA50FC96
E870F3868.png" style="border: none; background: transparent;"/>