I came across this recipe/idea/concept while watching some show on The Food Network. I honestly can't remember which one since it was several months ago.  The episode itself wasn't all that great… individual segments on different chefs showing how to create their signature dishes.  I can't recall the featured chefs nor what they created… but I do remember the last one was Giada De Laurentiis and her recipe for Italian Donuts.  Since I started baking last December, I've tried all sorts of things… cakes, pies, cookies, custards, curds, trifles, muffins, foccacia, dinner rolls, even bagels – - – but I'd never tried making donuts.  The way Giada showed it was so ridiculously easy I knew eventually I'd get around to it… and I did.  If you've never done this before you'll be blown away by how simple it is to make donuts right at home.
For this, the secret weapon is a tube of prepared pizza dough that you can buy right in the refrigerated section of your local grocery store.  Oh don't go gettin' all "purist" on me now sayin' that you don't like buying "prepared dough" for this reason or that.  No worries!  If you really want to go make your own dough – go for it!  But that will take this recipe from quick -&- easy into "involved -&- time consuming" and sometimes you just wanna go the quick -&- easy route :)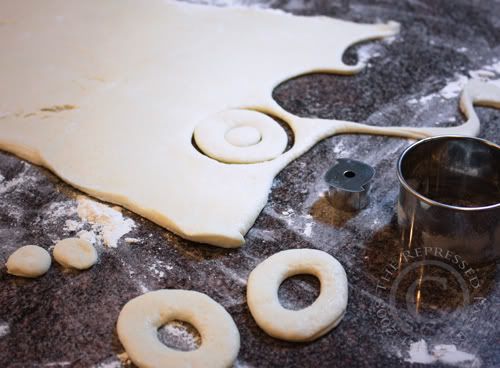 Roll the dough out to about a half-inch thickness and use two cookie cutters… one to make the larger circle and the other to make the smaller "hole" in the center.  I didn't have two cookie cutters so I used one biscuit cutter and one small circle cutter that was in a Linzer cookie "kit" that I've had forever but never opened (one day, mark my words, I will try making Linzer cookies… honest… I will… but that day is just not today… and tomorrow doesn't look good either LOL!).  Take the scraps and re-roll them to cut out more donuts but think about saving those cut out holes because all by themselves they can be donut-holes which are always a big hit!
Fry those babies up in hot oil, drain well on paper towels or a cooling rack.  These fry up very quickly… keep an eye on them because all it really takes is about 45 seconds on each side before they're sufficiently done.  Don't make the mistake I did at first… I was way over-cooking them to the point of being brown.  Nope, nuh-uhn, don't do that…. they're overdone at that point and will be "tough" which is not how you want a donut to be.  Just fry them until puffy and light golden brown… that'll keep them light and airy and make 'em melt in your mouth!!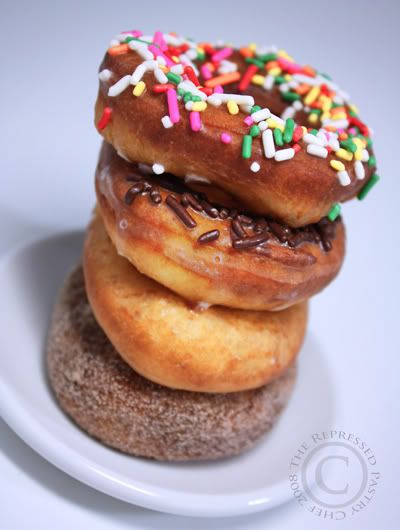 While they're still warm, roll in a mixture of cinnamon sugar… or powdered sugar… or a glaze made from powdered sugar and milk… or dip in melted chocolate… add crushed peanuts… or rainbow sprinkles… or chocolate sprinkles.  Have fun… do whatcha like!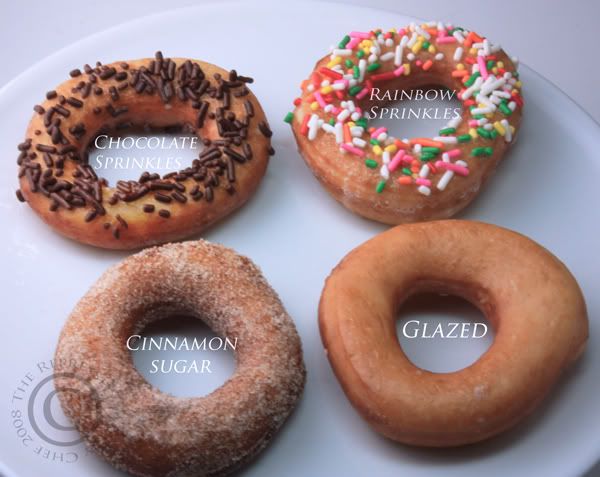 Donuts 

Adapted from Giada De Laurentiis

Ingredients


1 13.8oz tube Pillsbury pizza crust
Vegetable or Canola oil, for deep-frying
Cinnamon sugar mixture or powdered sugar


Directions
Roll out the dough on a lightly floured surface to 1/2-inch thickness. Using a floured 2-inch cookie cutter, cut out doughnut rounds. Using a floured 1-inch cookie cutter, cut out a hole in the center of each doughnut. Gather the dough scraps and reroll. Cut out more doughnuts.  You can also take the center hole cut-outs and fry them up as donut holes!

Pour the oil into a large frying pan to reach a depth of 2 inches. Heat the oil over medium heat until a deep-fry thermometer registers 375° F. Working in batches, fry the doughnuts until they puff but are still pale, about 45 seconds per side. Using a slotted spoon, transfer the doughnuts to paper towels to drain. Cool slightly. While the doughnuts are still warm, generously coat each with the cinnamon sugar mixture or powdered sugar.  

Alternatively, combine powdered sugar and a small amount of milk to create a glaze (the amount of milk will depend on how thick or thin you wish the glaze to be but add the milk in small amounts, by tablespoon and mix thoroughly to determine consistency before adding the next tablespoon).  For glazed donuts, coat each in the mixture.  Another option is to only dip the top of the donut in the mixture, set the donut upright and top the glaze with sprinkles or nuts.  

You can even melt some chocolate, coat each donut or dip just the tops and sprinkle on crushed nuts.  There are so many options, let your creativity flow!!! 

These really were a big hit with my family.  I'm not sure who liked them more… the hubs or the kids…. or maybe me! LOL

Have a delicious day!!